This classified ad was released by the Saab girl Kirsty Farnfield, whom we know from a "Saabalicious" Story, and now she wants to help her father to sell one greatSaab 900 Turbo. She advertised on behal of her Father, who can be cotacted via email.
*NOT CURRENTLY RUNNING: PROJECT, albeit in better condition than most this age. Some parts supplied such as a new exhaust and fuel pump to fit. Her dad hasn't got the time to restore this himself. His friend, a French Doctor who lives nearby, gave him the car as a gift because he knew he liked saabs. He has agreed that her dad should sell the car and they will be splitting the money.
This is a LIMITED EDITION Saab 900 turbo Lux edition, LEFT HAND DRIVE in a distinctive two tone blue and silver finish. It is currently on steel wheels with wheel trims, the Lux editions originally ran on ronal alloys if you wanted to find a set to fit to make it original. This is an unmodified vehicle in original condition.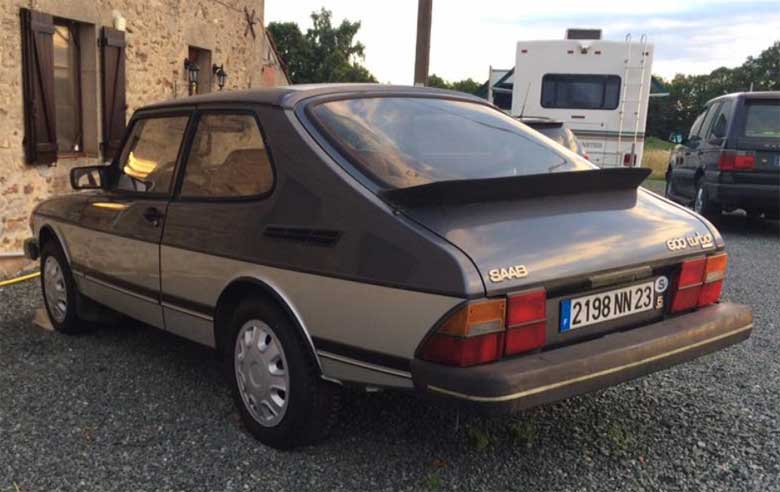 In good, running condition, these Lux editions can sell for up to €30,000 and even projects in worse condition than this one are currently priced between €3,800 to €7,000, to give you a ballpark for offers. It is in good condition for it's age, and has been stored in a dry barn. It has a slight rust bubble in the middle of the bonnet but there isn't anything structural that we can see, it's just cosmetic and can be easily sorted.
Specifications
Full details from my dad below, in his own words:
1983 Saab 900 Turbo SE "Lux" (Limited Edition) 8 valve – 3 door
Reg No. 2198 NN 23
Initial Purchase Date:- 3 June 1983 (M. Marcel Elola) from British Motors, Paris
1st Immatriculation Date:- 05 July 1983
1st Change of Ownership Date:- 20 Dec 2007 (Dr. Jean-Baptiste Heitzman)
Kilometres To Date = 186522 Km / 115900miles
Last CT Date:- 11 April 2006 in Vichy (180890Km/112400miles)
No current CT (MOT).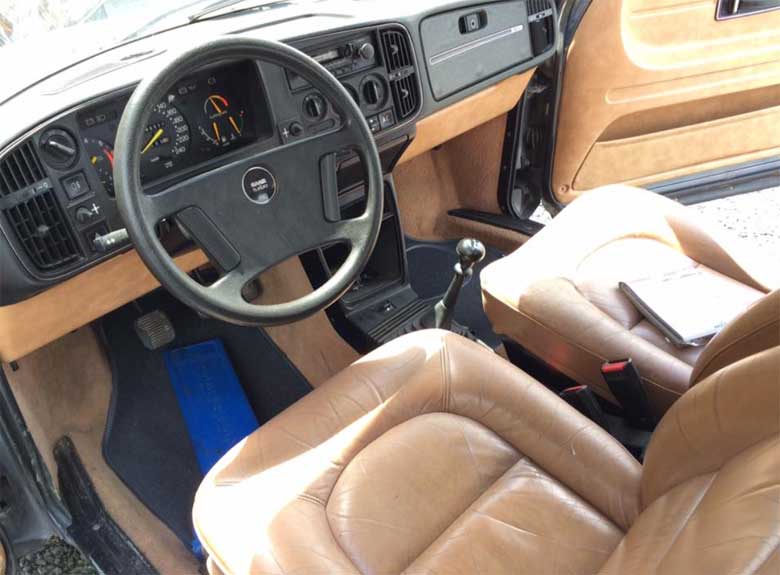 Colour:- Two Tone of Slate Blue over Silver (Codes 112B/172H – Comb Code 195 – only available on 900 Lux 1983-1984)
Left Hand Drive
Manual 5 Speed gearbox
APC (automatic performance control)
Power steering
Electric Windows/mirrors/sunroof
Headlamp wash/wipers
Sport Seats in Brown Scottish Leather (Bridge of Weir) Upholstery. Original and in good condition (for age)
Beige Roof Lining (in place and not sagging)
Original Carpeting in fair to good condition
Pioneer Radio/Cassette (original ?? probably)
Electric Ariel
Wheels are not original. Original "Ronals" would need to be sourced
Vehicle is Undersealed.
Essentially Rust Free with good Bonnet, Engine bay, Suspension mounts, Sills, Door pillars, Doors, Boot,
Steel wheels with plastic trims, 195/60 x 15 tyres, average condition
Emergency Spare Wheel
Original Tool Kit incomplete (Wheel nut wrench, Plug spanner. Allen Key, and Jack present)
Engine Turns over smoothly. Oil Clear
Engine which was replaced with a guaranteed used unit in the last in the last 5500Km
Fuel Injection Distributer is new a unit in the last in the last 5500Km
Clutch has been replaced unit in the last in the last 5500Km
Gearbox Dipstick to replace
Spoiler to re-attach .
Internal Boot trim to re-attach fully.
New Fuel Pump with Rubber and Fuel Filters available for fitting
Exhaust available for refitting
Brakes require refurbishment/freeing up (right front assembly to refit)
New Battery required
Bodywork and Paint:-
Some minor dents to sort.
Rust spot in bonnet
Rust around rear spoiler fixing point.
Paintwork, though generally sound, needs cosmetic attention to perfect appearance
Essentially a very sound platform for a refurbishment project to make an astounding car.
History of the car
Car was purchased in 1983 and had one owner till sold to present owner in 2007. Apparently it was kept garaged during that time and the general sound condition would confirm this.
The 2nd owner had problems that required that the engine which was replaced with a guaranteed used unit, Clutch has been replaced. Fuel Injection Distributer is new, but with no satisfactory results and he ran out of patience. Over that time it was kept undercover in his barn.
He donated it over to me (as a former Saab enthusiast (Google "The Old Girl")), ostensibly for spares for "The Old Girl". The 2nd owner is still actually the official owner of the car, but is aware that I am putting it on the market to our mutual benefit.
I had a former British Saab specialist take a look at it and after testing he decided a new Fuel Pump was required. This was sourced for the USA (with rubber sear insert) and is on hand to fit, along with new Fuel Filters.
Due to my age, health, other interests and having given "The Old Girl" to my daughter, I have now lost the inclination to continue with this vehicle, hence the offer for sale, preferably and hopefully to a fellow enthusiast.
Price
Go on line, do your research on the 900 Lux prices in various conditions (due to the rarity you may be surprised), see the car, make a sensible offer and payment method. Then we can talk. Seller will enjoy meeting buyer.