Melvin Könings from Holland yesterday sent us an interesting Saab story. He has upgraded his Saab 9-3X Sportcombi and he is now very happy with effect on his favorite car.
It is a branded LED light for doors, or as they call them "Led Car Door Logo Laser Projector Light". These decorative lights allows for a full vibrant SAAB logo to be projected showcasing your vehicle's make to the world.
Melvin ordered these lights online in China. That was quite simple by picking the "Ghost Shadow LED Projector for Saab 9-3, 5th generation" at AliExpress for just 17 dollars per pair. He ordered them mid November 2017, it took 14 days for the package to arrive in The Netherlands.
You could get these lights even a bit cheaper, but these lights ("5th generation") seem to have a better quality. Installation was really simple, as his Saab doors already had lights in the bottom.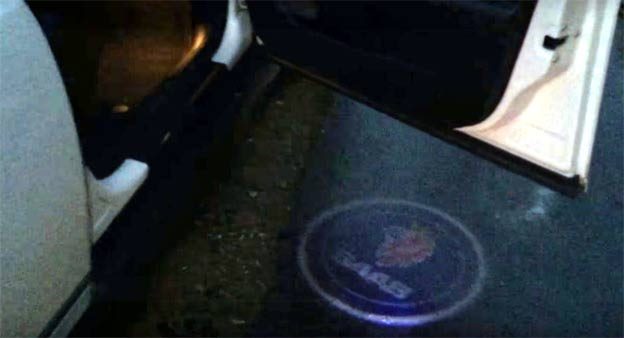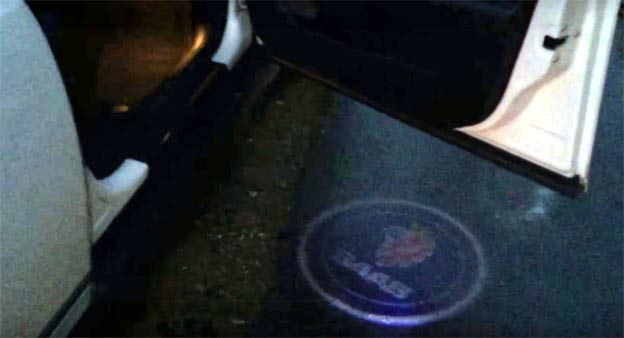 So it's a fairly simple job of removing the door panel (2 minutes), creating space by cutting out a small portion of the insulation and then you drill a hole in the bottom of the plastic door panel (the matching drill head that AliExpress delivers does not fit, you need a larger one). After that it's just connecting the wires and reinstall the door panel. An experienced mechanic (like his Saab specialist Jeroen Vermeulen from Saab De Linge ) can fix your two front doors within 45 minutes easily. Lastly, here's what it looks like when it ends in mounting:
He added: "These lights put a smile on my face every time it's dark and I open my car! A must have for the real Saab enthusiast!"