This is Iconic SAAB 9-3 Viggen, The word 'Viggen' means thunderbolt in Swedish, but according to other sources the word "Viggen" means like "the thunderstone". In scandinavian viking times people found old axe heads in the soil and thought that these axes had striken down from the gods with the lightning. While in reality they had been laying buried in the ground since the stoneage. By the way, "Viggen" is the previous generation of Saab jet fighters – Saab 37 Viggen. The only jet fighter in history to get a radar lock on the Lockheed SR-71 Blackbird spy plane…
According to accurate information, only 97 units of the Saab 9-3 Viggen Convertible are delivered to the US market in Laser Red color. This is one of those limited 126s, and it can be yours if you're willing to spend $ 7,500. And there were only 206 of them in the entire USA market in that color, and the rarer was just the model in Monte Carlo Yellow – there were only 68 units.
Surely, this rare 2002 Saab Viggen convertible has recently been refreshed and serviced. Saab has found harmony with their Viggen model line, combining safety with performance. Powered by a 230 hp 2.3 liter turbo-charged engine and mated to a 5 speed manual gearbox. The original Laser Red paint has been refreshed and overall, in very nice condition. There are no major blemishes and the factory wheels have recently been powder coated, according to the seller.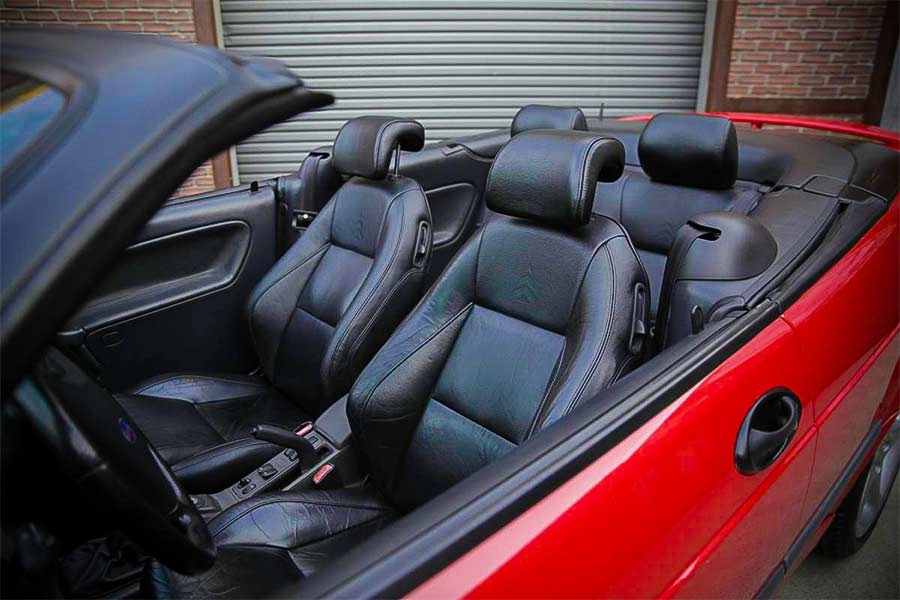 The cabin is clean and trimmed in charcoal grey leather, with heated and power-adjustable sport seats. The convertible top works like new with rebuilt hydraulic rams. Any potential sale of the vehicle is 'as-is' with no representations or warranties being given, including any statements made in this ad. Seller strongly encourage buyer to perform own independent inspection prior to purchase.
The following services have recently been completed:
· New brakes
· Tune-up
· Reman hydraulic rams and new stainless lines replaced in top
· New front bumper
· Seats redyed
· Wheels have been re-powdercoated and new tires installed
· New alignment
· New hood struts
· New tires
Seller asking $7500, and you can contact the seller via email. You may find the $ 7,500 figure quite high, but, Almost $39,000 for this car back in 1999! That is exact same cost of a hardtop Corvette back in 1999, more than a 2016 Mustang GT and just a tad less than a brand new Focus RS.