Make yourself happy and equip your SAAB 900, 9000, 9-3 or 9-5 with the most modern safe system for reversing "Saab Bodyguard". the system is based on a sensor strip that goes beneath the plastic bumper panel – so no drilling is required, no intervention to the interior. This system is used in the most modern luxury vehicles.
You will manage the assembling yourself or with the help of your local mechanic. You will get by with basic equipment – just stick the self-adhesive metal plated sticker to the inner side of the bumper and connect the control unit to the reversing bulb.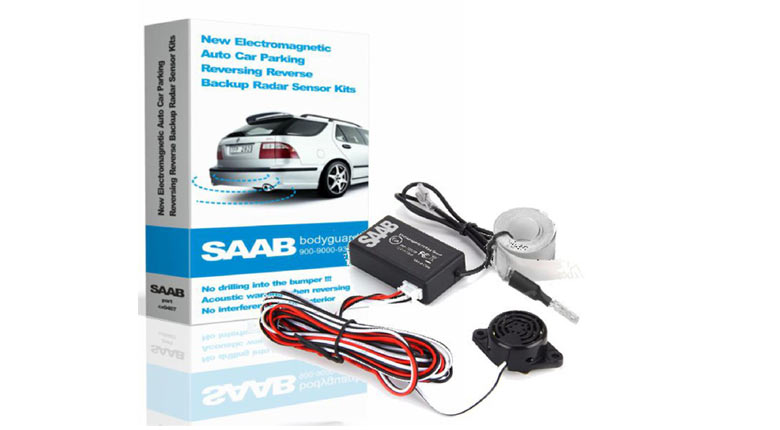 The reward is the certainty while reversing – the indication switches on automatically when putting the car in reverse and it reacts to approaching obstacles (even on the sides of vehicle partially!) in 3 levels: discontinuous sound (70-50 cm), faster discontinuous sound (50-30 cm) and continuous sound (30-0 cm).
Package contains:
8 page manual with assembling instructions
Complete control unit
Removable sensor for bumper – metal plated self-adhesive strip with connector 150 cm
Transformer for acoustic indication
Cabling to connect to reversing lamp
Accessories for assembling – stickers to attach the unit, strips for adjusting the cables and grommet for a cable (for models 900 and 9000).
Printed manual includes 5 chapters – Before You Install, Parts, Installation, Testing and Frequently Asked Questions and 3 detailed manuals – Inside the Bumper Cover, Outside the Bumper Cover and Inside the Trunk + photos of installation to SAAB 9-5 (the process is similar for the other types).
The set complies with the norm E24 (10R-020379). For more information or placing an order visit the Saab Accessories. The price of the OEM package is 55 USD, postage and packing to any country is 15 USD.
Fans of SAAB can find there interesting posters with a complete overview of SAAB vehicles and set of interesting coasters with motifs SAAB Retro, Black a 9-3, 9-5. That could be an interesting Christmas present for SAAB fans as well.