(Text&Photos: Abel Tan) The practical aspect of owning a station wagon has often been a 'safe' choice and one that perhaps leaves much more to be desired in terms of driver involvement and style.
The two blood thirsty wagons we have here are represented from the German camp of Ingolstadt and the Swedish Fort of Trollhattan. The headquarters of Audi and SAAB respectively.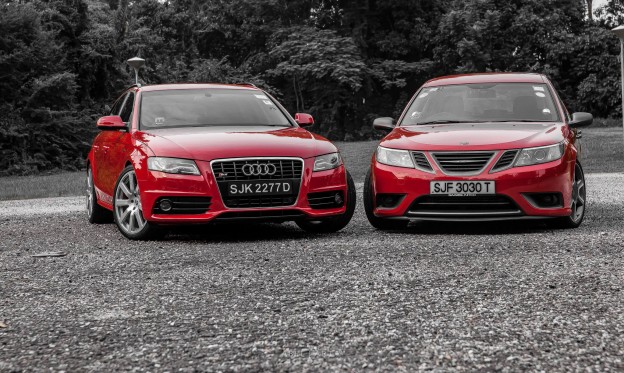 Both grocery getters are have forced induction at their disposal to aid in delivering neck twisting torque on demand and will give plenty of cars a lesson or two not only in outright thrust but also around the bends (especially in the Audi S4 quattro with its Sport Differential).
The designs of them both follow their respective country's traits with the Audi S4 Avant preferring the cleaner Bauhaus lines that evoke that sense of sharp, characterful lines that traces back its lineage back to Audi's Avant heritage.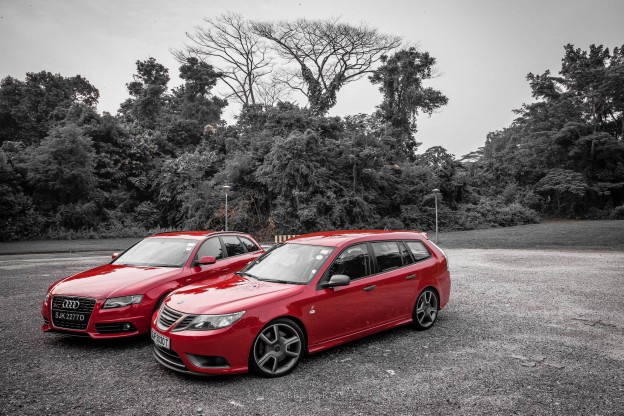 SAAB on the other hand has its Scandinavian infused design traits that ensures that it will never be mistaken for any other car out on the road. Its unique jet fighter inspired intakes, streamlined profile and exhaust tips that reminds one of a Jet exhaust serves as a reminder to the driver of the aviation inspired roots.
Audi S4 Avant sports a lovely set of MTM rims that exalts a nice OEM +1 fitment and presence befitting of a gentleman's sensible performance wagon. The rest of the car looks great as it is and purposeful as what the factory intended it to be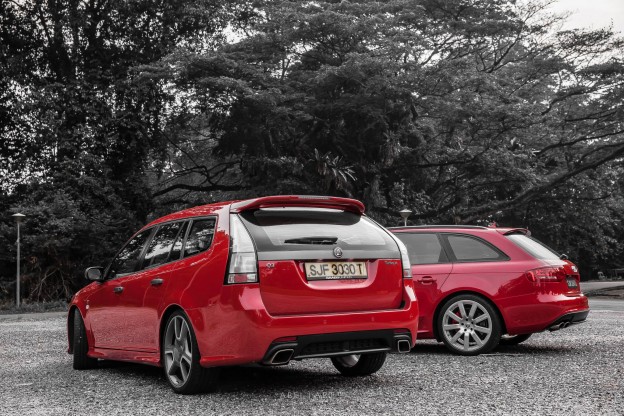 The SAAB 9-3 Sportscombi with its Turbo X inspired Exterior has the complete set with the Saab unique 3 spoke 19 inch wheelset, HIRSCH Sport Springs, HIRSCH Aero Roof Spoiler, HIRSCH Steering wheel, Turbo X front Aero lip, Turbo X Diffuser, Turbo X Muflers
Above all else, these two estates are a great reminder how a well thought out, sensible and performance oriented estate is all one needs. It is more than a practical decision, it is an individual choice, a path less travelled but one that definitely makes a statement that you are never a follower, but one that dares to take a bold step to pursue that unique identity that an estate gives.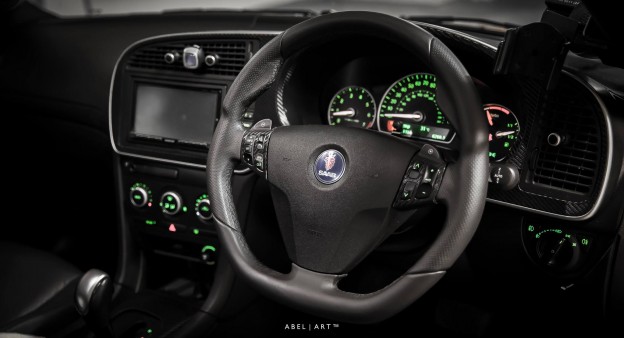 Long live the Avant/SportCombi (Audi & Saab Speak for Stationwagons). Both of them truly look as good, or i dare say, even BETTER than their saloon brothers…