Now this is something you don't get to see every day. A 1985 Saab 900 Turbo shows up on eBay and it is quite unique.
A very decent looking pre-facelift model of 900 Turbo has 274,000 miles on the odometer and the owners claims to be in original condition and had for 27 years (he is the third owner.).
according to the seller's statement, car was "Meticulously maintained and serviced at one of the top Saab mechanics" in the in Boulder, Colorado. He also adds that car Has been his daily driver for 5 years. A turbocharged and longitudinally-mounted B202 slant four is found here, and drives the front wheels with 160 HP and 188 lb. ft. of torque.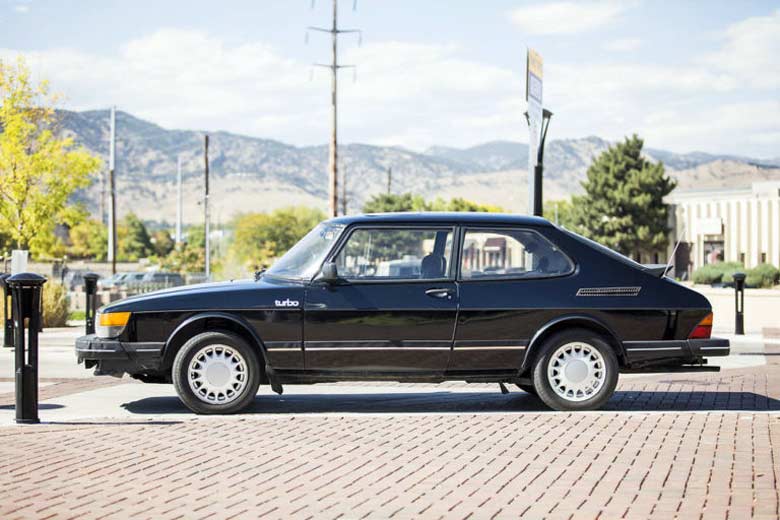 Take a look at the eBay photos, looks like it has an APC control box from an '88 SPG, which would theoretically make output 175hp if the fuel pressure regulator and base boost is correct for that application. This looks to be in great shape, if there's no rust in the front inner arches snap it up.
According to the eBay listing, The car runs great and this is a great running high mileage vehicle with a lot of life left to go. Since the car is photographed from a distance, the details are not visible. Still, In the pictures we better see the state of the interior of the car. Seats look like a sun-faded Oxblod Red leather. Passenger seat leather looks a little taut for its age compared to the driver seat so it may also have been recovered/recolored at some point.
The eBay Price right now (~$2,000) isn't too far out of bed for what we'd pay for this, given the sparseness of photos and background.
The other issue the seller mentions is "Air conditioning doesn't blow cold in prime summer". We don't know what that means, and not having the ability to troubleshoot We guess the worst case scenario and just replace the air conditioning compressor, but, maybe it just does not work the fan or need to supplement the air conditioner.