This is a special Saab photo project – a co-operation of Saab Car Museum, Column Identitet AB and Steampipe Productions Studio AB.
Just in time for the celebration of Saab's 70th anniversary, they are developing an exclusive collectors box with images of selected models from the Saab Car Museum. It is a project full of passion for a car brand, says graphic designer Niklas Andersson.
Niklas and photographer Johan Wedenström have been diving into the Saab Car museum's treasure chamber to catch the car brand's history. They both have a lot of experience with Saab car, both personally and in their work.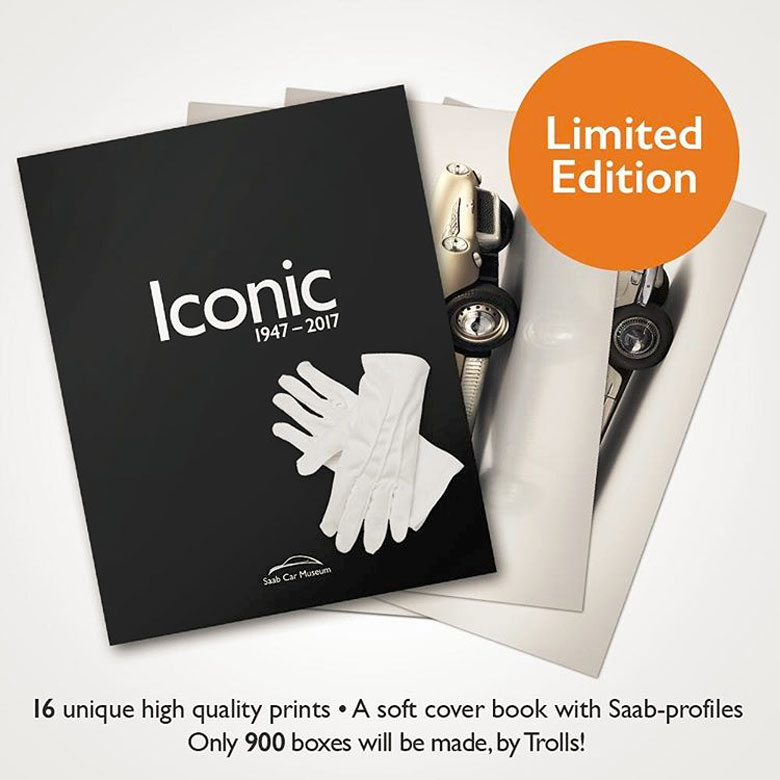 Johan has photographed many cars over the years, including Saab: "Look at this model from 1985, the EV-1, with solar panels on the roof. Or the modern Aero X. Every car lover must love them. It was unveiled in 2006 at the Geneva Motor Show, Aero X can be just as competitive as even the latest sports car"
"You realize, that Saab has contributed a lot to car industry and Saab has shaped many other automakers", says Niklas. Therefore, for these two authors, it was very difficult task to select 16 pieces of cars from the extensive Saab range. Interest in their projects is already high and they e already received some advance orders, including the one in Moscow.
Iconic – The Box
'Iconic' box is made an edition of 900 examples only and contains 16 photographs in 48 x 37 cm. format. The photographs are printed on high quality, 250 gsm. paper. In the box there is also a publication of around 40 pages with information on each of the cars depicted, as well as interviews with various key personnel from Saab. The price of the box with 16 photographs, 40-page publication and, of course, a pair of white cloth gloves for safe handling of the photographs, is 1,875 kronor (~$215).
The Iconic Saab Cars in Iconic Box
The box contains images of the following vehicles:
Saab Original from 1945,
Saab 94 Sonett I,
Saab 92,
Saab 93 'Monster'.
Saab Sonett II,
Saab 96 Sport,
Carlsson's Monte Carlo Rally Saab 96,
Per Eklund's rally Saab 96 V4,
Saab 99 Turbo,
Stig Blomqvist's rally version Saab 99 Turbo,
Saab 900 Aero,
Saab 900 Convertible,
Saab 9000 from Talladega,
Saab 9-3 Convertible,
Saab 9-5 Estate car and finally,
the Saab Aero-X concept car.
Order your Saab box now via http://iconiccars.tictail.com, It's Limited edition, so hurry up with orders.
The work can be followed on the project Instagram account @iconic_car_view