A 1966 Saab 96 Special, owned by Ed and Cameron Lorenz, is featured in the January 2016 issue of Hemmings Sports & Exotic Car magazine. Author Mark J. McCourt shared the Saab 96 Special model's history and technical data, plus Lorenz's enthusiasm for the Saab line, in a six-page article.
"I just like Saabs," said Lorenz, owner of Otsego Bicycles, sales and service business in downtown Oneonta. Lorenz said as far back as the 1970s he appreciated innovative, safety and other features of Saab vehicles and their performance in European rallies.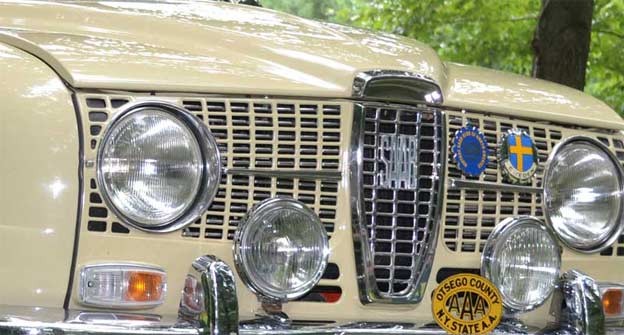 Lorenz said he bought the 96 Special more than 20 years ago, bringing it to Oneonta from Sidney, where it had been in a barn for about 15 years. "It was all in one piece," Lorenz said. The car needed cleaning, he said, and restoration took about 18 months. In the 20 years since, he said, "I just got carried away" adding "little details." The 1966 Special has won awards and honors at Saab owner conventions, including a first place at a Hemmings concours event in Saratoga Springs, Lorenz said. Hemmings officials probably decided to feature the car based on seeing it at a competition, he said.
"It's a fun car to take out," he said. "It's a fun driving car — it's snappy and agile."