We have just been approached by Caleb Pang from Renton, WA (USA), a regular follower of our blog and a big fan of Saab cars, with an appeal for help.Briefly, On the evening of January 11, Caleb was driving home crossing Snoqualmie pass, and then he had a car accident that he did not cause himself.
The conditions on the road were very bad, the road was covered with snow and Caleb had all the necessary winter equipment, but other drivers did not. Fortunately, Saab did the job and Caleb passed without injuries, but the material damage to his Saab is big, so he begs for help to repair his Saab and return it to the roads of America.
If you are able to help Caleb recover Saab, visit a special funraise page and donate the desired amount. Below, here is his appeal for help to all related Saab souls around the world. So far, he has already raised about a hundred dollars, and we want him to bring his Saab into running condition as soon as possible.
Save Saab!
Hello SAAB family. Longtime follower of SAAB planet and SAAB mechanic and enthusiast over in Washington State. I was driving my daily driver (1998 SAAB 900 turbo in Cosmic Blue) back home from the mountains, when a BMW fishtailed, I had the full snow tires and chains on, the BMW did not. Avoiding the BMW I lost control on the ice and spun out. I got hit head on by a Toyota 4runner. The car is fixable with no frame damage.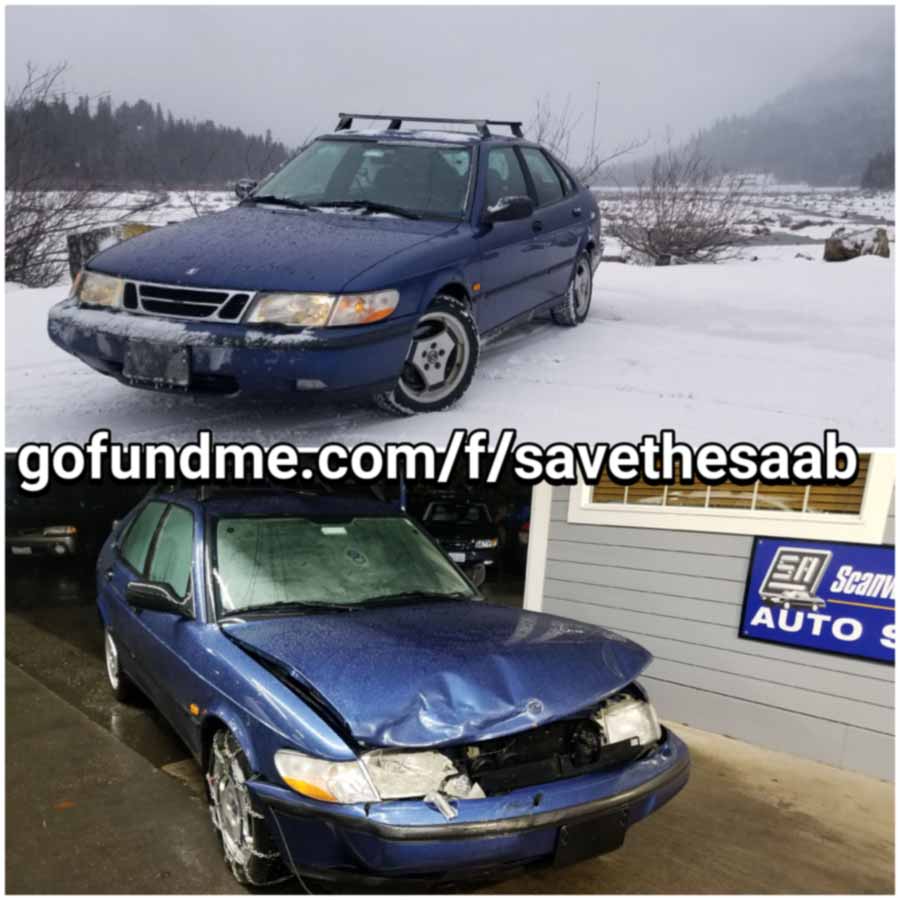 My passenger and I walked away with only minor injuries.
Now I feel bad asking about this. I'm currently unemployed and this couldn't have happened at a worse time. I'm struggling to make ends meet. A 5K USD repair bill is a lot to pallet right now. There was less than 400 turbo 900s in cosmic blue that made it to the US. It's quite a rare bird. It's had a lot of work done to it. Anyway. I don't know if you can send this out to some people who subscribe to your newsletter. I normally don't like asking for help like this, but I am really missing my car and want to save this SAAB. If you could send this out even to friends you know that would be so helpful.
Www.gofundme.com/f/savethesaab