Today we present you another fantastic Saab story and story of his proud owner Philip Karttunen.
His name is Philip Karttunen (@pkarttunen) and he is from Gothenburg, Sweden. Philip is 29 years old, and he has a 1 year old son and a lovely girlfriend.
He Works as a project manager but have been a electrician for almost 10 years before. Got in to cars when he met his good friend Rickard in school back in 2004.
His Saab stands in a garage that he split with his brother and some other friends, and his brother have a Nissan 200sx with a Lexus V8 that they added a compressor on.
His Saab 90 T16
Here are his story about his favorite car.
The story of my car started in 1986 when a friend of my grandfather bought it new, then it went through my uncle to me in 2007. I was 18 years old and dreamed of having a cool car. Started hanging around at the Saab Turbo Club of Sweden's internet forum and realized that maybe I could do something cool with my Saab.
Without having any previous experience of modifying cars, Me and my two friends Rickard and Emil decided to put the Saab in the garage. At first we would just change the engine, but it went crazy fast. Soon the whole car was dissambled and the plans were many. 2 years later, the car was placed on the Bilsport Custom and Motor Show, but without a motor. And it would take a few years before the Saab rolled out of the garage by own machine.
Then when it worked, I crashed at Ring Knutstorp 2015 and motivation fell but now it's back together, and next year I hope I can get a couple of days at the track.
Saab 90 T16 Specs
Engine: B202(T16) from Saab 900s, 3" exhaust, front mounted intercooler.
Chassie: Bilstein shock absorber, modified coilover springs, delrin bushings i front and powerflex in the back, Brakes from Saab 9000.
Inside: Sparco Evo seats, Sparco harness, rollcage.
Outside: Airflow-bodykit from Saab 900, glass fibre hood and bonnet, plastic rear windows. Carbon details. Modified steel rims. Bodycolor- Ford Radiant Red.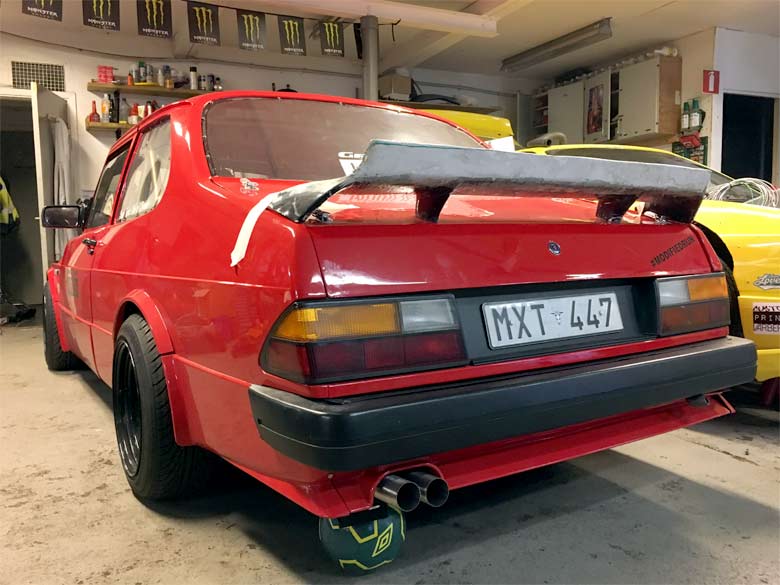 Plans & Future
Want to build a new engine, the B202 with 2.3liters top from the shortmotor bigger Turbo and Nira i3 and some other stuff. Do some upgrades in the car, new steering wheel, new lever rack, etc. Re do electricity and look up in general. On the outside I want to be done with my wing I´m building, a Bridge wing from a Saab 9000.

The crash back in 2015