Famous, Highly Modified one of a kind 1988 Saab 900 turbo SPG (US $25,000.00) Hatchback 2-Door 2.0L now on Ebay. Purchased as a dream car that owner Khaled Mounir always wanted from the day they were introduced. This car was and still is his dream car and He love driving it every day as my daily driver.  It's fast, reliable, comfortable. spacious and it turns heads and get thumps up every where it goes. 
As an enthusiast, Mounir has modified his Saab 900 SPG.  It appears to have great performance all around, and sounds as good as it looks. To put that in perspective, it was handsome enough to get 1,000 likes on Instagram in less than an hour.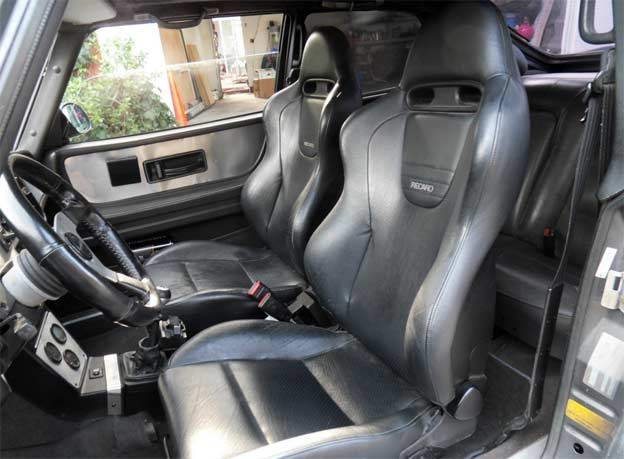 Here's what the owner says about this interesting car  and why he sold his car:
Many of you in the US and all over the world may know this car in person or from the internet. For the 17 years I have owned this car and driven it people always asked me if I would ever sell it and my answer in many different forms was " NO ". Sometimes I said "Nope", "Never ", or "For the right price anything is possible" The truth and the matter of fact is that after all these years of owning, enjoying and modifying what was and is still my dream car, I still don't want to sell this car.

Saab 900 SPG

But like I said to Matt Farah on an interview about my SAAB's " I would never want to sell my Saab's but sometimes if you want to drive another car you gonna have to let another car go". That being said and after so many years of love and joy, I am putting it out there for anyone that might be interested in giving this one of a kind incredible ride the home it truly deserve.
So once again do I want to sell my SPG ?. NO. Will I let it go to someone that value it as much as I do for the right price ? possibly.

Khaled's Saab SPG and Wiggen on Matts Instagram profile

Hope this statement clear the water for anyone that is wondering why I am posting the car for sale when I truly don't want to sell it. Now here are the things you really care about.