Ezeride startup was founded this year with focus to enable people to share their daily commute, with main goal to Make every (car) seat available for sharing with minimal effort and environmental impact. A similar service was recently launched by the company NEVS, in a limited form as an experiment called NEVS Share in Stockholm.
NEVS Share is actually an introductory service that should prepare for the future vehicle sharing platform (they call this "future mobility"). And according to this plan, the users of the service would no longer be the owners of the vehicle, but through this service they would rent the nearest (NEVS) vehicle, use it according to their needs, and then leave the vehicle so that another user could use it.
In order to complete this project faster, the company NEVS has teamed up with the startup Ezerida on the basis of an exchange of ownership shares. NEVS becomes part owner of the startup company Ezeride. In connection to this, Ezeride takes over the ownership of NEVS' carsharing service NEVS Share. The aim is for Ezeride to further develop the service and create new business opportunities through combining it together with their own shared mobility services.
Car sharing is growing fast in many parts of the world, and more and more car owners realize it is both unsustainable and uneconomic to use a privately-owned car which on an average is used only 5% of the day. In the past year NEVS has carried out several successful pilots with the service NEVS Share in both the south of Stockholm and in the city of Trollhättan.
"Through Ezeride we will be able to complement the mobility and shared vehicles offer at the same as we at NEVS can continue to focus on our core business which consists of developing electric cars and our mobility system PONS with autonomous electric vehicles," says Stefan Tilk, CEO of NEVS.
"We are very happy to have the opportunity to further develop NEVS carsharing service. It will be a good complement to our product portfolio. Car sharing is the future for our transportation needs and for us to be able to create a more sustainable society. The collaboration with NEVS will give us the opportunity of more rapid progress," says John Olausson, CEO of Ezeride.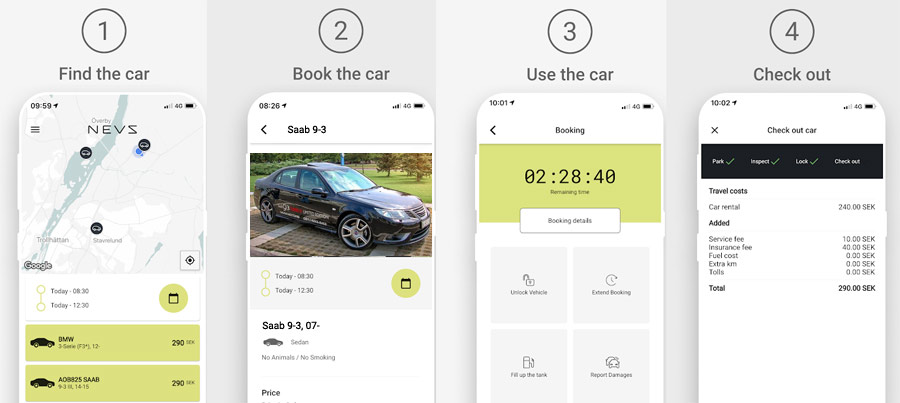 This merger also indicates that NEVS is certainly moving towards the realization of the "auto-as-service" project, that is, the projection of sharing the service of (automatic) transporting passengers without ownership of vehicles.
If these predictions come true, there will be fewer vehicles on the streets of big cities, less space occupied by huge parking lots, transportation will be cheaper, more economical and more environmentally friendly because it will be based on electric vehicles.