As you can see from the title, this electric Saab 96 is not even close in performance to a modern electric car such as the Tesla S, but it will be dear to many because it carries a retro heritage with additional e-modernity.
Saab's "electrical" history
Saab cars have always been ahead of their time, but unfortunately, this company dear to us has not reached the stage of making its own electric car. NEVS somewhat continues that path and has converted the latest Saab 9-3 to a fully electric platform (unfortunately, currently only available for the Chinese market). In fact, if we go back a little further, Saab had its own electric vehicle long before all other manufacturers. It was an electric delivery vehicle intended for postmen – a 1974 Saab T3 model.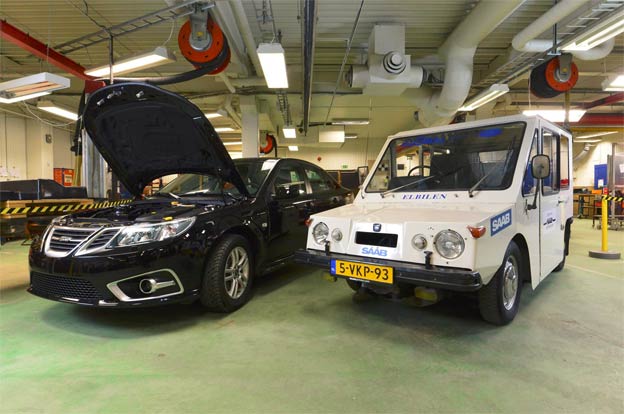 Various other Saab electric conversions
However, we are facing another successful conversion of an old Saab car into an electric version, we only remember a couple of similar conversions: electric Saab 96-V, somewhat more modern E-Saab 99, then we have a 1968 Saab 95 of similar age which is also convertible into electric, And also one Sonett was an electrical conversion project.
1969 Saab 96 Electric Conversion
The car we describe below is a classic 1969 Saab 96 was originally offered with either a 2-stroke three-cylinder or V-4 engine, but In 2009 the car underwent a conversion when the original engine was replaced for a 203-Series DC Motor from Advanced DC Motors, Inc. and 10 Trojan T-1275 Batteries Pack.
As you can see, this car has been "electric" for eleven years and its owner decided to do the new project, so he is selling this e-Saab 96. Of course, as more than ten years have passed, it is probably not in the condition it was in after the conversion and the batteries probably need to be replaced, but this can be a very good initial project for all those electric enthusiasts who enter the world of electric cars.
Except for the electric motor, everything else is retro and you shouldn't expect too much, but with a range of up to 60 miles, this e-Saab is great for a local relaxed ride and enjoying the scenery. The car comes with original invoices and manuals, all the details of the electrical conversion project, and even invoices for all the parts that were needed for the electrical conversion. As we said – an ideal starting project for electro-enthusiasts.
Below you can read what the seller "MotoeXotica Classic Cars" says to this project-car and what the potential buyer can expect.
1969 Other Makes 96 Electric Conversion
Have you ever wished for a classic electric car, something most unlike a Leaf, Prius or Tesla? We may have something to give you a jolt at MotoeXotica Classic Cars, a 1969 Saab 96 that has been converted to electric power. This example reportedly has fewer than 20,000 miles and a 60-mile range. This conversion took place in 2009 and operates and functions property today. Great city or beach car, like no other.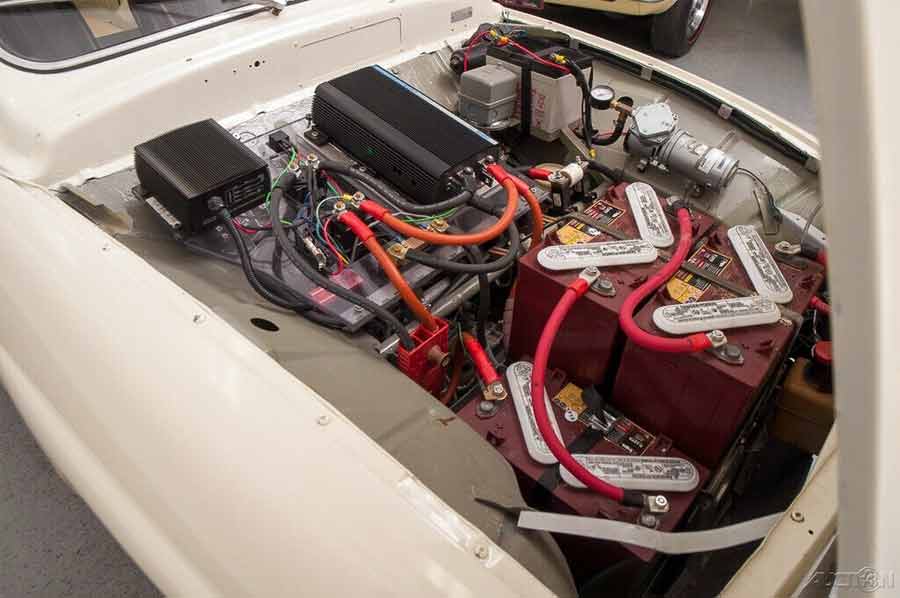 The very good general condition of the vehicle
Finished in white, the car's paint and trim are in overall very good order, with some blemishes visible at close range. The body is straight and solid, the chrome bumpers fit the body tightly. The paint does have orange peel present. The rear quarter windows pop out for ventilation. The stock fuel tank has been removed while a charging system cooling fan vents waste heat via an exhaust port just after the driver's door.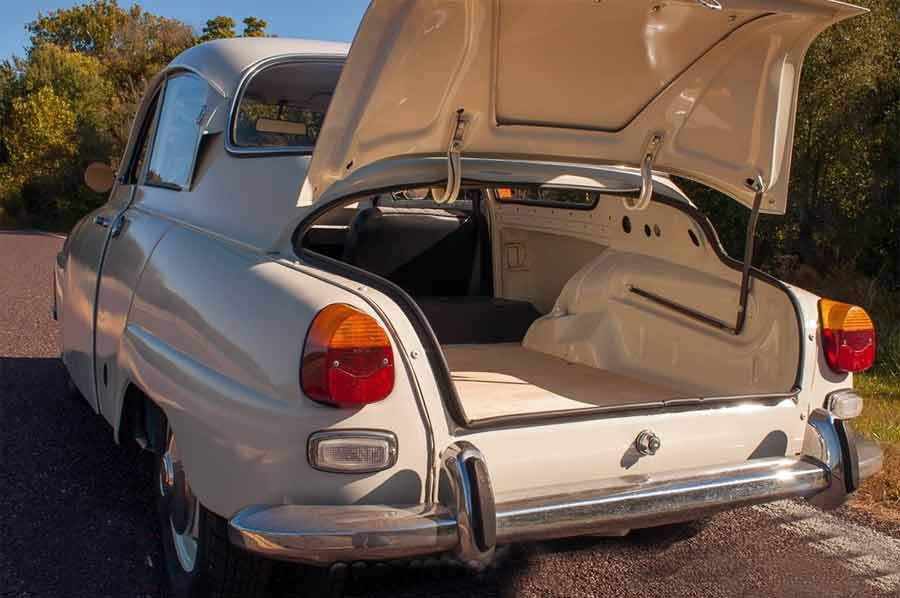 This Saab rolls on radials tires, size 165R15 at every corner. Each one is mounted on white, vented steel wheels with chrome factory center caps. The tires are in very good condition while the wheels are in good, original shape. Reportedly the vehicle's springs were adjusted to compensate for the conversion's additional weight and the current ride height is said to match the stock setup.
Electric drive
Motive power for this Saab is a 203-06-4001 DC motor from Advanced DC Motors, Inc., paired with 10 Trojan T-1275 batteries and sends power to the car's front wheels. The column-mounted four-speed manual transmission functions well without a clutch pedal, lifting off the accelerator to facilitate gear changes.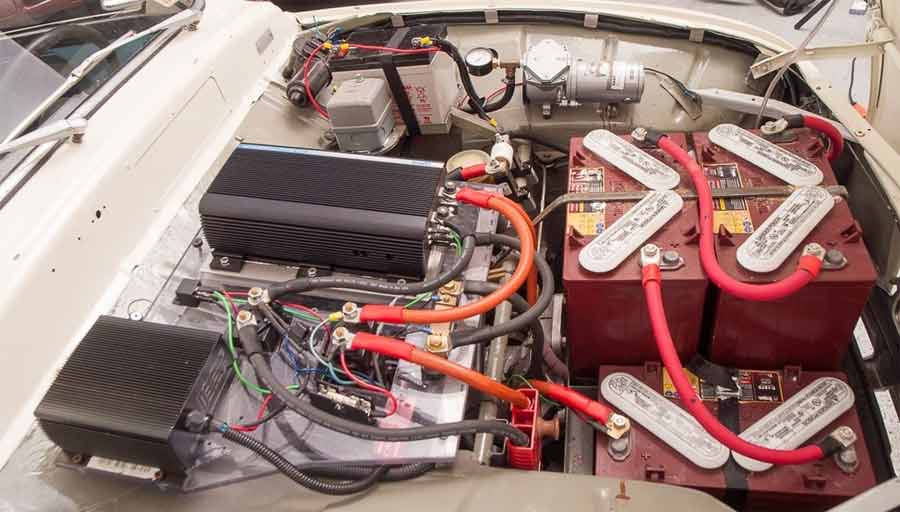 The seller stated that the drive system is chargeable by connecting a port behind the fuel filler door to a regular AC outlet. Besides its 60-mile range, the car has a top speed of approx 60 mph. This is a very unique car that would be perfect to get around the city, beach, or golf course.
Changes in the interior of a car
Inside, the car's gray cloth seats with black vinyl side bolsters are in very good shape while the carpetless flooring, neutral headliner, two-spoke steering wheel, white metal dashboard, and inner doors are in satisfactory order, though the driver's inner door liner is missing. The instrument panel shows a battery charge indicator, a voltmeter, an ammeter, and a 120-mph speedometer. The seller stated that the headlights, turn signals, windshield wipers, and emergency brake have their own electrical system and are functional.
Complete supporting documentation
Documentation includes Saab Owner's Manual, a Haynes shop manual for this model, and a large blue Build Bookbinder plus a logbook containing receipts and operating instructions.
If the idea of an electric vintage car pleases you but you have zero interest in a modern EV, come by MotoeXotica Classic Cars and get a charge from this late '60s Saab 96 that has been converted to electric motivation. VIN: 532536 This car is currently located at our facility in St. Louis, Missouri. The current mileage on the odometer shows 19,744 miles. It is sold as-is, where is, on a clean and clear, mileage exempt title.
Information about the seller of the electric Saab
The seller is MotoeXotica Classic Cars and they are currently putting this car up for auction on eBay. At least for now, potential buyers have shown considerable interest, so the last offer reached $ 2,050.00. So if you are interested yourself, the end of the auction is in 7 days, so you have time to decide.