Popular Japanese director Ryusuke Hamaguchi ("Happy Hour" and "Asako I & II") unveiled a visual teaser for "Drive My Car" movie, which is a movie adaptation of Haruki Murakami's short story of the same name. The short story "Drive My Car" is part of Murakami's latest collection of short stories "Men without Women" (published by Bunharu Bunko), and the up-and-coming director Hamaguchi eagerly aspired to make a movie out of it.
Hamaguchi is a rising director, The commercial film debut "Sleeping and Awakening" was selected for the competition section of the 71st Cannes International Film Festival, and the short film "Chance and Imagination" was awarded the Silver Bear Award (Judge Grand Prix) at the 71st Berlin International Film Festival. ), And the director Kiyoshi Kurosawa's "Spy's Wife Theatrical Version" won the Silver Lion Award (Best Director Award) at the 77th Venetian International Film Festival. In his numerous works, through his overwhelming screenplay and rich cinematic expression, he has exposed the multifacetedness and complex emotions of human beings.
This work is a story about the loss and hope of a man who lost his wife. Yusuke (Hidetoshi Nishijima) is a stage actor and a stage director. He is married to Fukaku (Reika Kirishima), who works as a playwright. They have a happy marriage, but Fukaku suddenly disappears and leaves behind a secret.
Two years later, Yusuke takes the director job at a theater festival. So he heads to Hiroshima, driving his car – Saab 900 Convertible. There, he meets his exclusive chauffeur Misaki, who doesn't talk much. He has been banned from driving after he was caught over the limit, and then found to have glaucoma. He is forced to engage the services of Misaki Watari, a plain woman whose driving skills overcome his prejudices about female drivers. Misaki remains professionally detached while Yusuke practises his lines in the car over the months that she drives him, until she wonders about his lonely existence…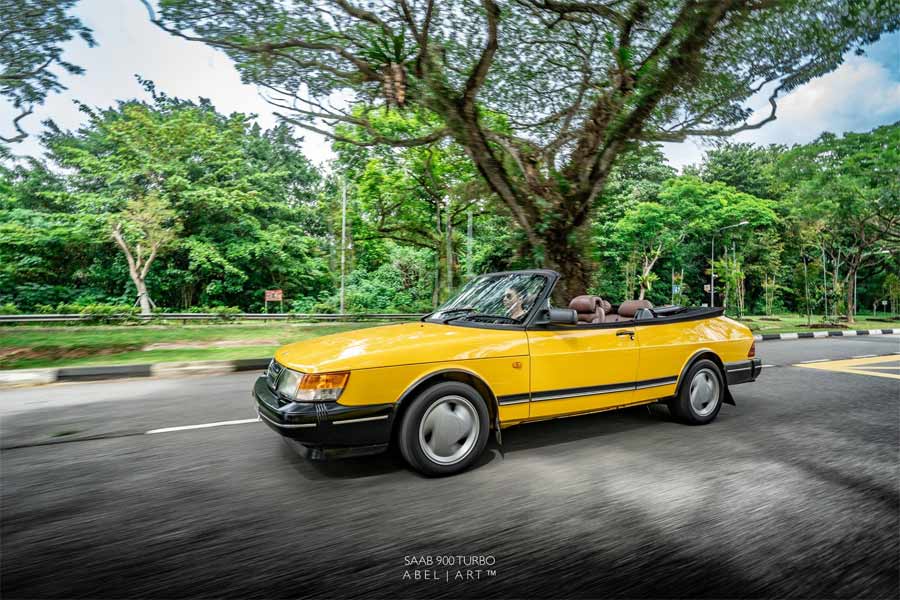 Like all of Murakami's stories, this one is intriguing, and a special charm comes from the part related to cars. The story starts out lambasting women drivers and dividing all women into two groups. In story, A veteran actor and widower is obliged to hire a chauffeur for his ancient "yellow Saab 900 convertible" (Murakami always supplies manufacturing details of his characters' cars). However, this poster announcing the film's premiere reveals that the director decided to make it a red Saab 900.
The teaser visual shows Yusuke looking into the distance with a complex expression with various emotions, and Misaki who got into his car, the red "Saab 900". Two lonely people who met through a car with "a memory of sound". Similar to the novel "A Man Called Ove" (and movie, of course), in this story, one Saab occupies a significant place. We can only wait for the premiere of this interesting film, which is scheduled for the summer season.