After a great introduction that made Daniel Haglof in qualifying, he made an even bigger success, and came to the first triumph (his first ever) in the official STCC raceat Solvalla for Saab and PWR Racing Team. Just behind Daniel, was positioned another Saab 9-3 – Richard Göransson from Team Tido.
STCC Leader, Polestar Cyan Racing driver Thed Björk secured vital points in the Scandinavian Touring Car Championship weekend at Solvalla despite carrying 50 kilos of penalty weight. The reigning champion qualified on pole position for the first race but dropped two positions to finish third. Team mate Fredrik Ekblom had a tough weekend, also carrying 50 kilos of penalty weight.
Emma Kimiläinen with Saab 9-3 provided a thrilling race to fight her way from seventh on the grid to fifth position over the finishing line.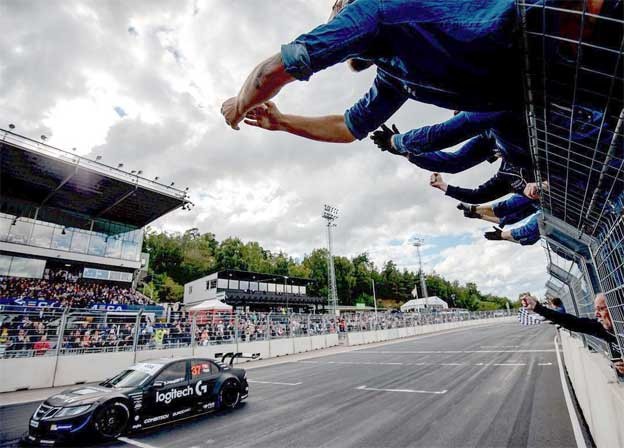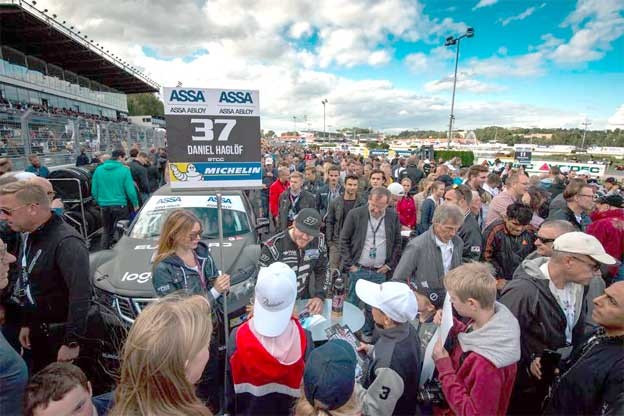 STCC 2015 Solvalla Results
Race 1 – Top 5
1 Daniel Haglöf Saab 9-3 26 laps
2 Richard Göransson Saab 9-3 +2.241
3 Thed Björk Volvo S60 +12.191
4 Fredrik Larsson BMW SR +13.097
5 Emma Kimiläinen Saab 9-3 +30.816
…
7 Fredrik Ekblom Volvo S60 +32.847
11 Carl Philip Bernadotte Volvo S60 +1 lap
Race 2 – Top 5
1 Fredrik Larsson BMW SR 26 laps
2 Daniel Haglöf Saab 9-3 +11.885
3 Richard Göransson Saab 9-3 +14.155
4 Emma Kimiläinen Saab 9-3 +14.674
5 Fredrik Ekblom Volvo S60 +44.951
…
6 Thed Björk Volvo S60 +45.596
11 Carl Philip Bernadotte +2 laps
Q1 – Top 5
1 Daniel Haglöf Saab 9-3 46.059
2 Thed Björk Volvo S60 +0.247
3 Mattias Andersson Dacia SE +0.261
4 Fredrik Ekblom Volvo S60 +0.361
5 Richard Göransson Saab 9-3 +0.511
…
11 Carl Philip Bernadotte Volvo S60 +2.559
Q2 – Top 5
1 Thed Björk Volvo S60 46.496
2 Daniel Haglöf Saab 9-3 +0.025
3 Fredrik Ekblom Volvo S60 +0.305
4 Fredrik Larsson BMW SR +0.516
5 Richard Göransson Saab 9-3 +0.537
Championship standings – Top 5
1 Thed Björk Volvo S60 311 points
2 Fredrik Ekblom Volvo S60 288 (-23)
3 Fredrik Larsson BMW SR 255 (-56)
4 Richard Göransson Saab 9-3 209 (-102)
5 Mattias Andersson Dacia SE 184 (-127)
…
9 Carl Philip Bernadotte Volvo S60 53 (-258)