This is "angel eye" in the 2.0 version of the Morimoto XSB LEDs, and this "Angel light" is a perfect fit into fog-light positon in bumper of Saab 9-3.
And that's not all, the owner of this Saab Eric Winchester has improved "angel eye" with blinker function (turn signal). Morimoto XSB Halos are only designed to run white light as a constant. The Amber function can only be used intermittently such as in a blinker application.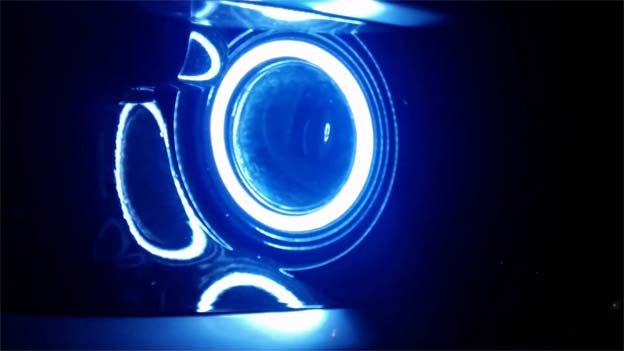 Erik has used precisely this application, and connect angel-eye with turn signal in Saab. As you can see, The result is quite good – improves the appearance but also contributes to better visibility of your intentions in traffic:
Of course, if you prefer to work on the car, this small upgrade you can do for yourself.  Wiring is easy with a variant of the X Change Module integrated into the LED driver that powers each ring. The white wire receives a constant 12V+. The black wire is grounded, and the yellow wire is tapped into the turn signal circuit.