Staying connected is more important than ever, and having your cell phone close at hand while on the road in a way that's safe for you and your fellow motorists is a big deal. Even while you're driving it's a good idea to have your phone for GPS, emergency calls, and so forth.
How to find the right Universal Car Dashboard Mount Holder
Picking a right car mount is the hard part though. With so many to choose from, it becomes difficult to determine which one benefits you the most.
I personally have tried a ларге number of different phone (tablet) holders, but I was not satisfied by any of the tried holders. Most holders did not match my expectations, some are too big, Some of them have a small possibility of adjusting,  and some are attach to the dashboard or windshield with a suction cup, than we have models that clamp onto an air vent, and some that ride in a cup holder or 12-volt power outlet….. Offer is really great, and the choice is up to you. 
GripGo universal car phone holder
We found the right one – GripGo universal car phone holder. The car's GripGo holder, meanwhile, enables easy attachment of the smartphone to the windscreen or dashboard without any tools or adhesives.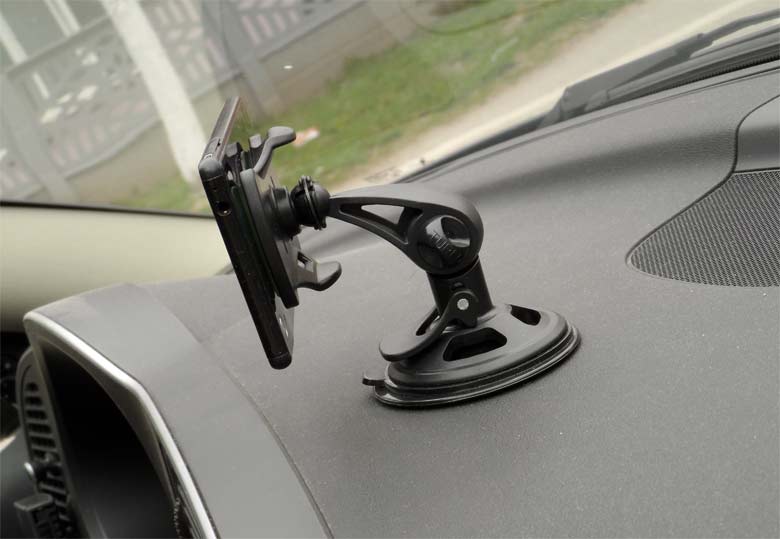 Unique (green) polymer surface acts like a suction cups that instantly grip and release over and over again. The green gripping cradle is polymer, and your device peels right off without any sticky residue. From time to time, the green pad does get dirty, and you'll need to take it inside to wash.
Car Dashboard Phone Holder that can be easily and firmly attached
The smooth glass of the windscreen makes the holder's suction work like a champ. But, I found a better position –  on the dashboard!  It can hold any model of phone, big or small, and with its twistable neck you can mount it vertically or even horizontally. Also,  The GripGo box include Adhesive-backed disc for dashboard mountin.
Benefits of this Universal Car Holder Stand Mount
It's a little below the top of the dash now, so no glare to worry about. Also, It's good because you don't have to keep looking down at your phone to see it – It's right there, in front of your eyes. The 360 degree pivoting mount allows you to always get the perfect viewing angle. Also, does not interfere with the driver's field of view, which certainly improves safety. The green pad is super sticky, I have a big cellphone, and it does work pretty well.
If the bracket mounting on windshield, and If there was a temperature change on the glass, the suction cup would loosen! Therefore, we advise potential users users to dismount and remount the GripGo before use after significant temperature changes. Also, Some reviews will address how the GripGo doesn't work with their iPhones when in a case.
Is this the ideal Car HUD Dashboard Mount Holder?
Of course, even this car phone (GPS) holder is not perfect, but can serve!
The GripGo universal car phone mount is an inexpensive solution to using your phone, first of all, as a GPS device.
And that's not all, thanks to the HUD mobile applications and the ability to connect to the car's PC, you get the ideal HUD position with this holder. Of course, the image is not displayed on the windshield but on the phone screen, but this is an even better solution as it is much clearer and you can adjust the appearance of the elements on the screen. Factory HUD systems, including those in Saab 9-5 NG cars, have very few tuning options, similar to the built-in navigation systems.
The GripGo Universal Phone Mount is available through other online retailers such as Amazon or via Ebay. And, the price of this phone holder goes from just $4 – Really cheap, and convenient, you can try it.
And one little warning, Only thing is that you can't leave it in the dash in the hot sun. It melted the sticky part and is now unusually.