Here we have a 1971 Saab 95 V4, once the very best, now just a shadow of it's former self. This amazing Black Saab 95 is equipped with a completely refurbished Ford Taunus-sourced 1,498-cc V4 engine that here rocks the modernity of fuel injection and electronic ignition.
It's is also blown – and not in the rod through the block fashion, but by a roots-type kompressor proudly punching through the pointy part of the car's hood like a fist of fury though Ikea particleboard. From the front that blower with its double barrel sawed off intakes, along with the ominous black paint, gives the car a whole lotta' Mad Max appeal.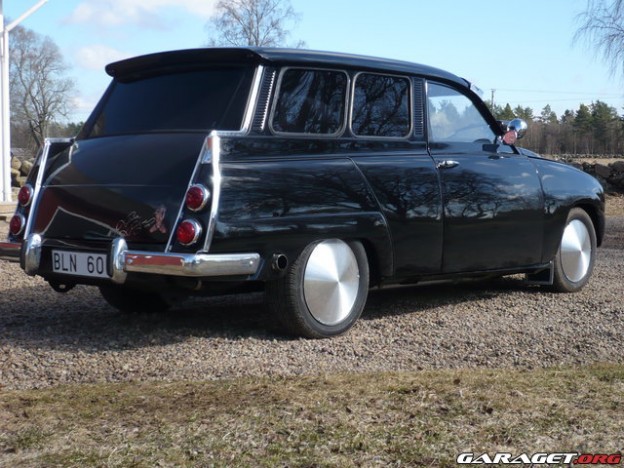 Pop open either of the side doors and you'll be confronted by an interior that's again mostly stock, but that contains some unique add-ons – you know, so you can pick it out from the crowd. First off, there's a red anodized baseball bat clipped to the driver's door.
If you like entertainment options that don't include the blower's whine, there's a ceiling-mounted 10″ TV screen hooked up to a DVD player too.