So this beautiful Saab 9-3 TiD SportWagon is going up for sale as curent owner really no longer need a diesel (yes, this is a classic Saab diesel based on the fantastic Fiat's JTD engine). All in all it's a brilliant motor with a great deal of care and attention put into it.
According to the owner, Bodywork is generally in good condition with some minor surface rust on the rear arches and 2 tiny dents on rear off side door (quoted £50 to correct). Owner Just spent a small fortune on it with the idea of keeping it but he really no longer need a diesel.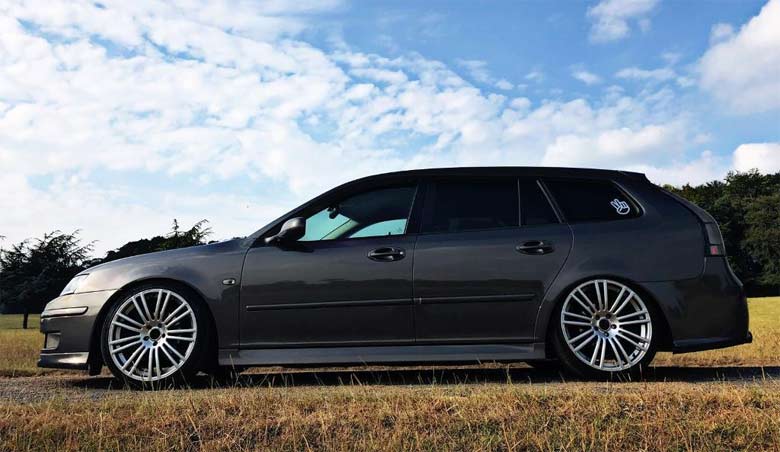 He's been there, tried and enjoyed it but his heart lies with the petrol turbo models. All in all it's a stunning motor which performs as well as it looks.
As can be seen in the pictures, in addition to the beautiful modifications in the exterior (especially emphasize – ESP custom headlights), the owner have done a lot and under the hood – EGR delete, DPF delete, Swirl flaps removed and welded, Fully rebuilt V6 Aero callipers all round, Brand new MTech disks and pads, BC racing coil overs (fully adjustable), Custom 3" turbo back twin exist exhaust (near new), Hirsch replica rear diffuser, Evo 8 style intercooler, Team Dynamics Savage 19's (immaculate), custom stereo Pioneer SPH-DA120 with Alpine speaker upgrade dash and tailgate.
This Saab is located in Rotherham, South Yorkshire (UK) and Price is £3000, can negotiate a slightly lower price at a lower spec. Possible PX/Trade for either 9000 Aero, 9-3 V6 Aero or 9-5 Aero! You can contact the owner by phone 07798605087.