Here is a new project from the Saab workshop of Swede Isak Eriksson, after his project of Custom made Hirsch-Styling grille for Saab 9-5 NG. Also, this project also relates to the latest Saab model – Saab 9-5 NG, but this project is about upgrading the multimedia system.
So this time Isak has made a new modification on his Saab 9-5 NG – he has installed an Ipad Mini as navigation/stereo unit in the Saab NG 9-5 Aero since his car does not have it from factory.
Below here comes a little story about it, and Isak send us also a video that shows how it really works.
iPad
Mini as navigation/stereo unit in the Saab NG 9-5 Aero
'Since my car does not have Navigation from factory i decided to build a solution my self.
I installed an iPad mini as media device, the original stereo is still connected but its hidden behind the dash.
Ipad itself is connected to the usb-port under the armrest and that makes the car "think its an iPod", so i can switch songs and volume by the steering wheel.
The iPad is also jailbroken so i have programed it to "sleep" when i shut the car off, and "wake up" when i turn the car on = as an original nav/stereo would.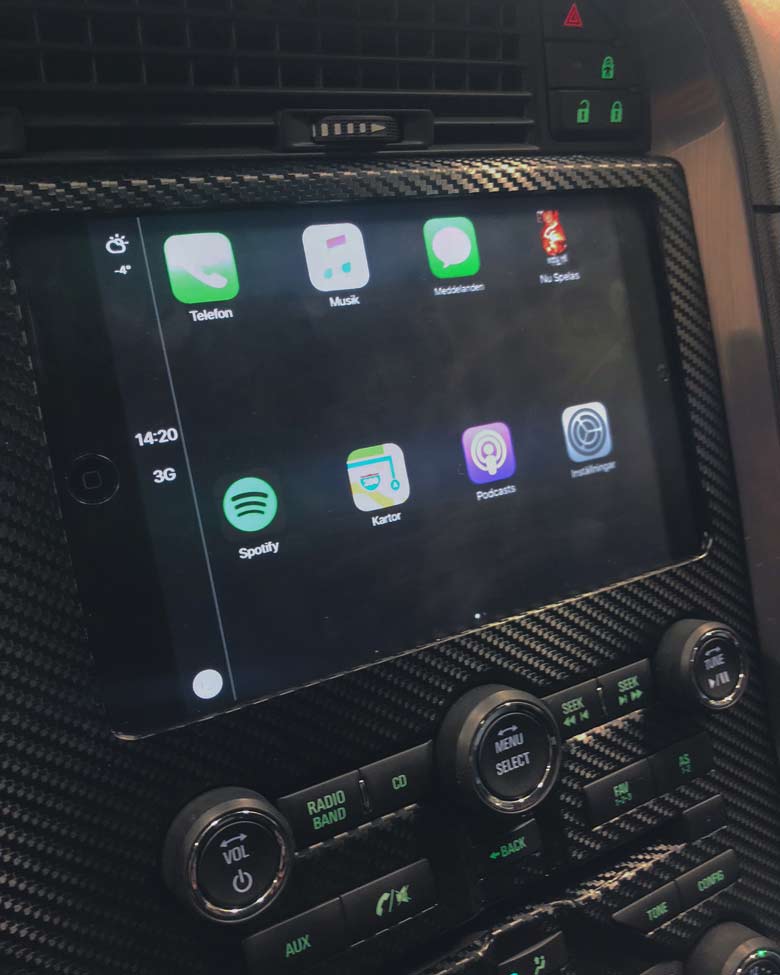 The iPad itself has a 3G sim card in it so its always "online" an operates as a single unit = no need to share internet from my phone.
I also installed a wireless QI-charger behind the dash and some magnets around it so it works as a charger and phone holder at the same time.
No visible cables anywhere, everything is hidden/buildt behind the dash, centre console and down in the arm rest where everything is connected to the car.
Maybe this is not the absolutely best solution but i really love iOS and CarPlay, and this wasn't as expensive as an aftermarket unit"