If you are not satisfied with the existing multimedia system in your Saab, you can find a vast number of alternative on the market, more modern HD systems with additional options, such as a reversing camera or HD screen. In this our example, David Silberman from California used the modern Alpine Halo9 iLX-F309 Digital multimedia receiver with a 9″ touchscreen that fits in a DIN dash opening (does not play CDs) device and installed it in his Aero.
This device offers the double DIN experience in a single DIN dash. Neat concept for those with only a single DIN option. The F309 fits like it was OEM and with an available Plug-N-Play wiring harness makes for a simplified installation. Because this is a a single DIN device, you will need two kits for instalaltion: DIN kit and Wiring kit including steering wheel retention through dynamic sound. The installation did not need to be programmed with Tech 2 device.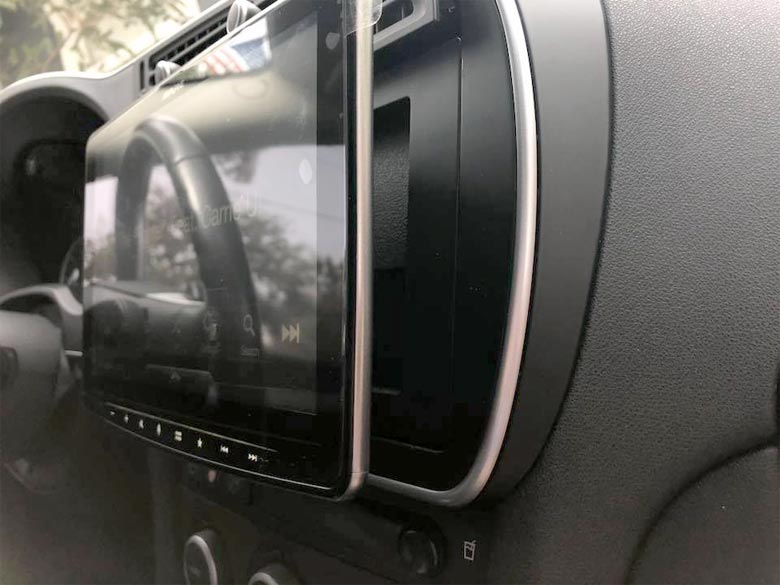 In the market there are several kit systems for for wiring and installation, and we recommend this to you – CTKSA01 Saab 9-3 2008 Onwards Double Din Car Stereo Fascia Fitting Kit. This complete Double Din Radio Replacement Kit by Connects2 CTKSA01, allows the fitment of a Double DIN aftermarket headunit to the selected vehicle. The kit includes everything you need to complete the installation including fascia, steering stalk controls and aerial connections.
After the purchase of the device, David measured it and the screen seemed to be a perfect fit for that big area around the radio in an 08 Saab 9-3. According to his words, Everything is installed, including a rear camera. Which by the way is like watching reverse in theater mode. It's a floating screen, so it's it's about an inch from the dash, sort of like some of those new vehicles. But it also has a silver ring around the outside which matches the Saab's dash perfectly.
he is very pleased with this setup – It works OK, he had very hard time retaining the Bose amplifier, but all the speakers including the subwoofer and centerpoint channel work fine. It looks cool. But it needs to sit flush. Like the iPad swaps. It even has AM/FM adapters and Bluetooth for audio and you can use any app for music it also plays threw your speakers in the car. It's well worth it then any radio swap.
We personally like the factory stock solution most, but this is better than a lot of installs that we see.