This sleeper car powered by Saab is from Chernigov, Ukraine and it's owner is Aleksey (you can follow him on drive2.ru – community of cars and people). Today, I should like to tell you a few words about this powerful Saab convert project.
Aleksey is a fan of the brand Saab for almost three years now. With his words "My first meeting with "born from jets" is the Saab 9-3 OG. Excellent car with it's charisma and turbo engine 185 h.p. (B204L) Body after time looks strictly and tastefully!"
The next step in the process of studying information about the platforms of Saab and General Motors was confirmation that the Saab 9-3OG and some other models of cars use the same engine mount points as on the GM2900 platform.
He needed a good engine – yes, He have it. The B204, B205 engine became a very popular engine swap for Vauxhall and Opel Astra, Calibra, Cavalier and Vectras with the GM T-body platform, in Scandinavia in the mid 2000s – the engine uses the same mounting positions due to sharing the same platform.
You tell me where is the idea of building her car and I tell you it's here – In Poland, the Fabryka Samochodów Osobowych (FSO) plant in Warsaw began the production of the Daewoo Lanos in 1998. Since January 2005, after the takeover of Daewoo by General Motors, the Lanos produced in Poland started to be sold under the brand name of FSO.
This folk car has earned a reputation of a non-destructible and to this day is produced in Ukraine! But the most important that this car uses the GM platform also called GM T-body for compact (C) class too.
The decision to build a new project came very fast. After some time, Saab 9-3OG 2000 model year from Denmark served as a good donor for new project with Daewoo Lanos T-100 powered by Saab.
Daewoo Lanos T-100 powered by Saab
After assembling and tuning the motor from Saab, he got a real sleeper car with the following specs:
Engine:
— Swap 2.0l B205R turbo 280 hp 400 Nminstead of 1.5l A15SMS atmosphere 86 h.p. 130 Nm [completed st.2] ;
— Green injectors Bosch 0 280 155 968;
— Pump Walbro GSS-342 (USA);
— Castom inlet 2,5″, air filter zero resistance Honda S2000;
— Downpipe 3,0″, exhaust systems 2,5″, performance-oriented muffler from Remus;
— ECU: Trionic 5.5;
— Reprogramming ECU to Stage 2 by COM (Belarus).
Turbo:
— TD04HL-15T Saab 9-3OG (9400) Aero;
— Castom FMIC with core 550х180х57;
— Maptun Saab Black Atmospheric Dump Valve (LG-BV02BLK);
MT: Saab-designed five-speed manual transaxle F25 Final Drive=4,05
Suspension, brakes:
— Replace front amo, I put Koni Sport, but … turned up no less interesting and it varinat BILSTEIN — B6 SPORT;
— Replace rear amo to Koni Special;
— Front Br.340 mm by Hirsch Performance (Carline AG), calipers from Porsche 993 Brembo BBK 4 pistons, 5 bolt hub;
— Rear Br.300 mm Saab 9-5OG Aero… 5 bolt hub;
— MBP from Nubira 22, restrictors 3/30.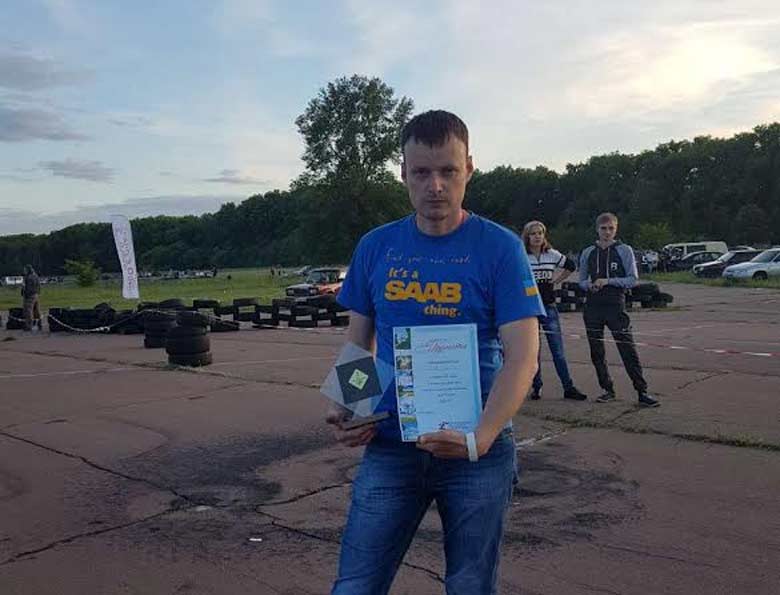 Wheels:
— AEZ Xylo 7jx16/5×112 ET35 DIA65,1;
Other mods:
— Body color – emerald green pearl Chrysler USA;
— Replacement front bumper to Lanos Sport;
— Blacking factory headlights with Koito D2S/D4S Infiniti;
— Custom rear bumper;
— Custom air intake;
— Front lip. bumper from the Renault Espace;
— Hyundai Veloster Rear Bumper-Exhaust Duct;
— Dashboard Saab w/o turbo;
— Boost gauge Blitz from Japan (original);
— EGT gauge Defi;
— Steering wheel from Opel Omega B in the skin with multimedia control;
— Salon in the skin from Saab 9-3NG Vector;
— Electric mirrors, aspheric, antiglare.
Audio:
— Head unit from Pioneer, design + sound = DEH-P88RS;
— Front speakers by Morel Tempo Coax 5 (with external crosses);
— Rear speakers by Infinity REF 6532i;
— Tweeters Diamond Audio & crossovers Morel;