One part of Saab fans carries fond memories from their childhood and youth when Saab cars were an integral part of their upbringing. However, there is a part of car fans who did not consider Saab cars so beautiful. One of them is Maarten van Buuren, for whom Saab cars have always been a bit ugly, but Saab cars have always been loved by his mother.
Maarten is the general manager of the well-known Dutch company Tekno, which deals with cars (and trucks), but in a different way. Tekno in De Lier is the leading producer in the world of truck miniatures in the scale 1/50. Unbelievable, but this company has been operating for almost 100 years. Started in 1928 in a basement in Copenhagen it has grown to become a fully-fledged and world respected manufacturer of model trucks.
Let's go back to the story of Maarten's mother's favorite Saab 96. As a child, Maarten van Buuren (44) found his mother's Saab 96 ugly. She thought very differently about that. The moss-green but rather decrepit Swede was her favorite and was never allowed to leave. This car has been standing in the family shed for at least twenty-five years. Until his mother turned 70 and her son came up with the original gift.
This interesting story from the Netherlands is told to us by the local Dutch magazine AD, which also filmed the proud Martin next to the restored Saab 96, which is housed in the museum of miniature trucks at the Tekno headquarters.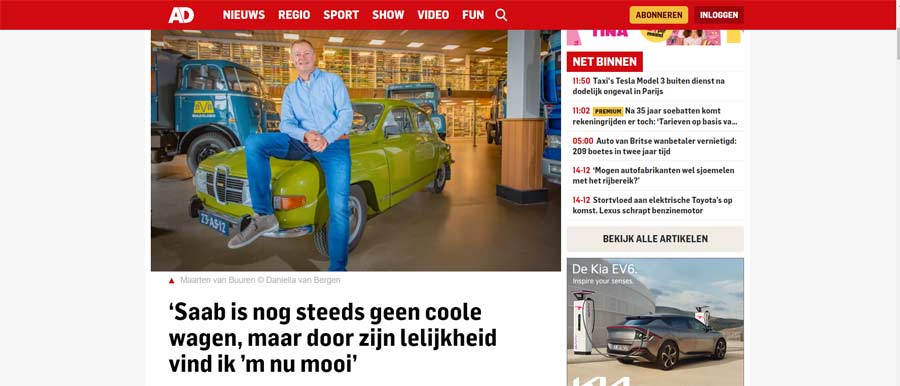 As you can see in the editorial photo, the completely renovated Saab 96 looks huge in front of a wall full of truck miniatures that fill this special museum.
Together with his father, he decided to restore the Saab 96 for her birthday. They didn't really meet that deadline. She is now 72 years old and finally got it from them last April. Then they prepared a big surprise for his mother – they organized a big party in this company museum. Saab was outside at the time, under a large veil. Car was then discovered and introduced to his mother, but with the message that the car was not done yet. His mother thought it was super fun, but in fact – Saab was completely renovated at the time and really ready for delivery.
Saab is not a Volkswagen whose spare parts you can still get without a problem. Because of that, Maarten even had to search a lot of websites with spare parts for old-timers. Maarten think that's the sport too. The doors were rotted through and smeared with putty. The tailgate too. And part of the windows was broken and the seat covers pulverized…
During his last drive, he found that the car did not shift higher than two. So the gearbox had to be readjusted. Now that that is back in order, he hopes to take it to Sweden one day.
His brother and Maarten used to whine about that car. It wasn't a cool car, and in their opinion – it still isn't, but now he likes it because of its "ugliness". That moss green color really belongs to that time, and the chrome bumpers complete the picture.