We're getting sad news this morning from Belgium. Saab 900 Classic with four young people is driving on pole in Destelbergen: one dead and one person in danger. The Dendermondesteenweg in Destelbergen was completely closed off this morning at the intersection with the Ter Ramenlaan after a major traffic accident. A car with four passengers, 19 and 20 years old, crashed into a lighting pole at around 8.30 am. One of the young people died as a result of the crash and another is still in life danger.
"There is one vehicle involved in the accident," according to police from the Rhode & Schelde zone. "The black Saab drove in the direction of Zele, got off the road and hit a lighting pole. The fire brigade had to come to the scene to remove the victims from the car. "The roof had to be cut off to free the victims.
At the time the accident happened, a little rain had just fallen. That made the road slippery. That may be due to the cause of the accident. Local residents also state that the car probably drove too fast. "I heard the car slipping loudly and then a huge blow," says a resident of the paved road.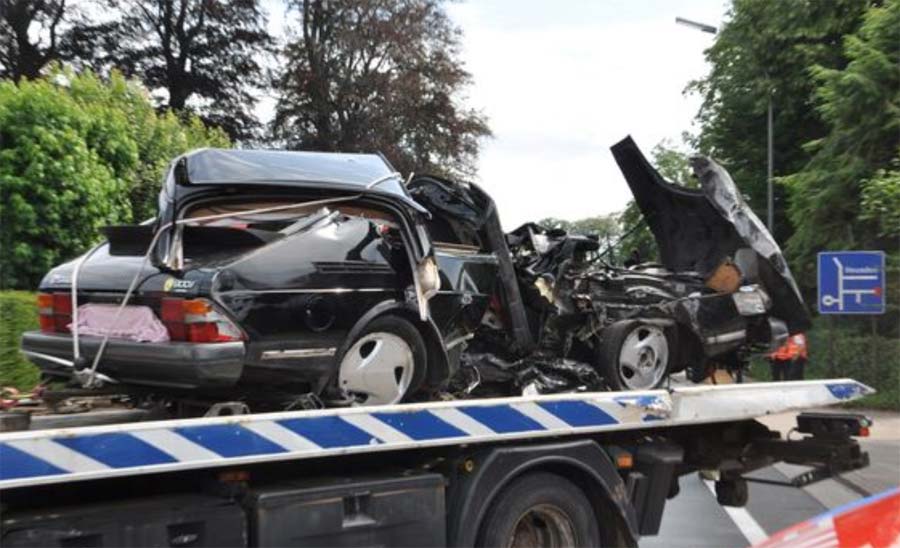 The public prosecutor's office was informed and a traffic expert came to make the necessary observations on the spot. In the meantime, the Dendermondesteenweg remained closed in both directions to all traffic. A local diversion was planned between the Kerkkouterrede and Reinaertweg junctions. The street was released again around 12.45 pm.
To get such a huge damage on the old Saab 900 means really huge accident. SAAB is so safe and strong car that is unbelievable how become like this. Uncontrolled speed is dangerous, especially on a slippery carriageway. Huge tragedy for families. Our prayers are with him and his family.