Exactly 60 years ago, on February 17, 1960, the Saab 96 was presented. It was the successor of the 93 and was produced until January 1980, in a total of 547,221 units. February 17, 1960 – a cold, windy, and snowy day – Saab held a press showing in Stockholm. Project 93C, as it was known within Saab, culminated in the announcement of the new Saab 96 at a Stockholm press conference on 17 February 1960. It was a further development of Saab's previous models Saab 92 and Saab 93, with a sister in the combination model Saab 95. But most importantly – it is a classic, a real gem in Swedish car history.
Saab 96 underwent a number of major changes during these 20 years. Between 1960 – 1964 Saab 96 had a three-cylinder two-stroke engine and a shorter front (hence its nickname "short nose" and "bullnose"). In 1965, the Saab 96 got a longer front and in 1967 a four-cylinder V engine (V4) was introduced.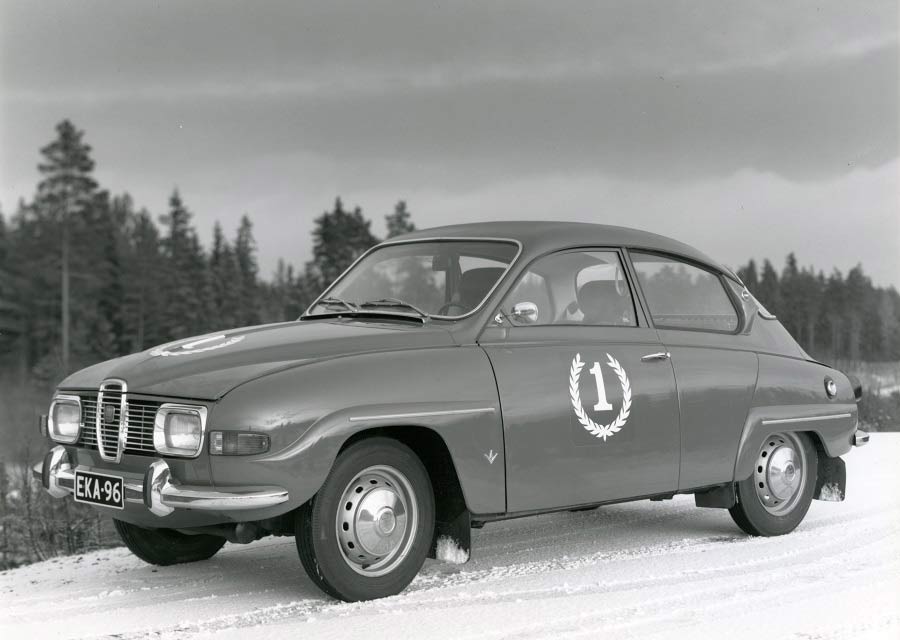 In 1966, Saab's first four-stroke engine, a Ford-built V4, is offered in the Saab 96 and 95 (1967 model), at first in parallel with the two-stroke, but the latter is soon taken out of production when the V4 promptly turns out a success, both in sales and in competitions.
Running in parallel to the 96 was its wagon version 95. Despite of only 2 doors and a tailgate, it could seat 7 people on board, thanks to a rear-facing third row. It was barely less popular than the saloon.
In 1968, the front and rear windows were enlarged and replaced with a front grille with squares similar to 99. Since then, the exterior has been modernized according to the Saab 99, and the Safety measures: The front grille was changed in 1972 and after 1975 a shock absorber bumper made of urethane was installed. The last Saab 96s were produced on January 8, 1980 at a Finnish factory Valmet Automotive.
Saab 96 is still a very well appreciated and classic car today. Thousands of enthusiasts around the world drive Saab 96, both as a fine car and as a utility car. Saab 96 is no longer manufactured, but it is being renovated, serviced and will continue to live for a long time to come.
In total, as many as 730,000 copies of the 92 family were built in 30 years. Its long life and its large sales far exceeded expectation for such an odd-looking little car coming from a Swedish aircraft company.
Saab 96 in Races
Saab 96 is the first Swedish rally car ever to exist. In the early 1960s, Saab dominated 96 rally races around the world, with Erik Carlsson "Carlsson on the Roof" as its most successful driver. With Saab 96 Erik won, among other things, the Monte Carlo rally 1962 – 1963 and the RAC rally 1960 – 1963.
The victories in the 1960s were actually achieved by 96, another light evolution from the 92. This time its 3-pot engine grew to 841 cc, producing between 38 hp and 46 hp depending on year. The gearbox was upgraded to 4-speed. The 2-stroke engine soldiered on until 1967, when it was replaced with a 1498 cc Ford V4 – yes, a 60-degree V4 that was developed from the Cologne V6 and renowned for its compactness.
Although its unbalanced configuration generated more vibration, it fitted perfectly into the tight nose of the car, and it produced a lot more torque. Horsepower ranged from 55 to 65 hp, and top speed was up to 93 mph. In the remaining 12 years, the 96 was largely unchanged in the mechanical aspect. Eventually, some 550,000 units were sold in 20 years time. Its sales was so hot that it needed a second production site at Finland.
Technical data
Saab 96
Body

Saloon, two doors, five seats, 813kg/1,792 lbs.

Engine

Three-cylinder longitudinally mounted, 70x73mm, 841cc, compr: 7.3:1, 38hp @ 4,250 rpm, 79Nm @ 3,000 rpm

Engine Structure

Two-stroke, aluminium cylinder head, cast iron block, 4-bearing crankshaft, downdraught Solex 4UAI or BI carburettor, fan, thermostat and pump.

Transmission

Front-wheel drive, three-speed gearbox, hypoid bevel final drive, 5.43:1. Four-speed gearbox, Saxomat.

Chassis

Internal steel body shell, independent front suspension, coil springs and wishbones with anti-roll bars, beam axle, coil rear springs, telescopic shock absorbers, hydraulic drum brakes, single circuit braking, rack and pinion steering, 39.78 litre fuel tank, 5.00/5.20×15 tyres, 4″ rim.

Dimensions
Wheelbase 248.9cm/98″
Front Track 122cm/48″
Rear Track 122cm/48″
Ground Clearance 17.8cm/7″
Turning Circle (L) 10.29m/33.75′, (R) 10.74m/35'25"
Length 402.6cm/158.5″
Width 157.5cm/62″
Height 147cm/58″
Performance
Max Speed 75.3 mph/120.88 kph
Acceleration 0-60 mph 25.6 secs
Standing Mile 23.6 secs
Average Fuel Consumption 32.3mpg (test)
Source: Saab – A half century of achievement by Eric Dymock, ISBN 0 85429 981