Swedish style and full-bore boost: buying a Saab 9000 is unwise without our extensive guide. The magazine "Moder Classic", dealing with youngtimer cars, has prepared a detailed guide for all future buyers of the 9000 model, so below we bring you interesting details that can benefit Saab car buyers.
Nice to see that SAAB is back in the 'classic car' spotlight in the motoring press. This month the folks at Modern Classics Magazine are running a feature on the iconic SAAB 9000, which TR Autos have been very lucky to be involved in helping them write.
Essential CHECKS before buying
Engine
'If they're treated well and serviced properly, they're pretty bulletproof,' says Tommy Butler, owner of independent Saab, VW and Audi specialist TR Autos. 'If they've been looked after, you can pick one up with 170k miles and it can still look good and drive really nicely.' That said, there are some crucial things to check for. Timing chains can get noisy and oil leaks are not uncommon, primarily from the distributor blanking plate and front right-hand corner of the engine; both can be an easy fix, but the latter can sometimes require head gasket replacement
Transmission
'Themanuals, if they've had a hard life, can suffer from issues,' says Butler. 'They can and turbocharged options. It was the force-fed 2.0- and 2.3-litre engines which would garner the most attention, though, thanks to their blend of reliability, performance and efficiency. Today, a good used turbocharged Saab 9000 is often far less expensive than many alternatives from the same era. Prices vary wildly, but usable cars can be had for upwards of just £600.
Spend a few hundred on turning up the wick a little and you could very quickly have yourself something that'll spook far more expensive machinery. be rebuilt and some parts are still available for them,with secondhand bits also readily available.' Similarly, if the clutch is showing signs of distress, a quality replacement kitwill often only cost around £200. Automatic versions are generally durable, so just check for obvious issues and make sure the transmission fluid is in a sensible state.
Suspension
Like much on a Saab 9000, its suspension stands the test of timewell. 'I don't think I've ever replaced shock absorbers, certainly not on the front of a 9000,' says Butler. 'The suspension's very well put together.' However, it is worth casting an eye over the front end; Butler advises inspecting the bushes on the front wishbones, particularly those at the back, and checking the brackets for any sign of corrosion or cracking.
Body & Structure
This is where you really need to pay attention on a 9000. 'The windscreen surrounds tend to rot,' says Butler. 'When the windscreen is replaced, the frame gets scratched and the pillars can rot and bubble. You really need to make sure it's okay, particularly at the bottom of the pillars.' Other areas to check include the front wings (which are no longer available new) and above the rear exhaust box.
Brakes & Steering
The power steering system on the 9000 tends to be reliable and components such as ball joints and tie rods are easy to come by. You won't struggle to find brake parts, either. 'Do make sure you've got a good handbrake,' says Butler. 'It's adjustable through the rear calipers and the cables can be adjusted as well.'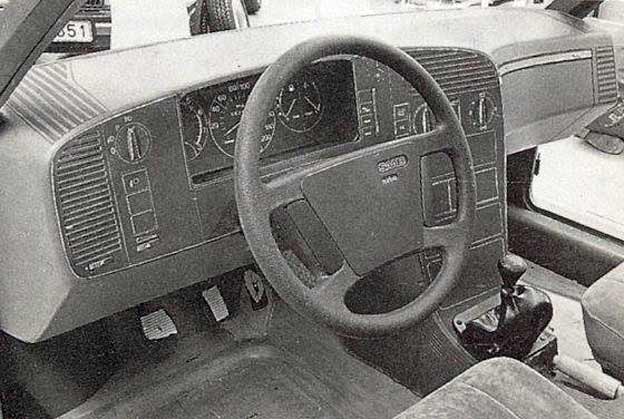 Interior & Trim
If you've looked at a few 9000s, you'll no doubt have noticed that in most cases the interiors will have lasted well. 'They're very hard-wearing,' says Butler. 'You do have to watch for the age-old Saab thing of the headlining dropping, though; the material comes away from the backboard.' One other key point is to feel around in the front footwells for any signs of damp, which will indicate a failing heater matrix.
This is just a small piece of text from the new "Modern Classic" magazine, so those who want to buy 9000 should get a new issue of this magazine with a detailed customer guide on the market.
And of course the general conclusion is: "The 9000 is a great example of an executive saloon and we would term it as a 'modern classic.' It is said to be the safest executive model of its era. Values of these cars are still fairly low so it's good practice to seek the very best example you can afford."