This beautiful Saab Eco-X Concept by Drew Whittock (Designer at Broom Boats) concept encouraging the use of alternative materials benefiting the environment without narrowing the target market to sustainably aware customers.
Taking influence from the ever advancing aeronautical industry, Scandinavian design philosophies and adapting architecture, the SAAB Eco-X concept represents an understanding of environmental impacts that material demands can cause. Equipped with a gas turbine and independent electric motors, urban and transcontinental journeys still capture the emotion and pleasure of driving whilst remaining mindful of delicate surroundings.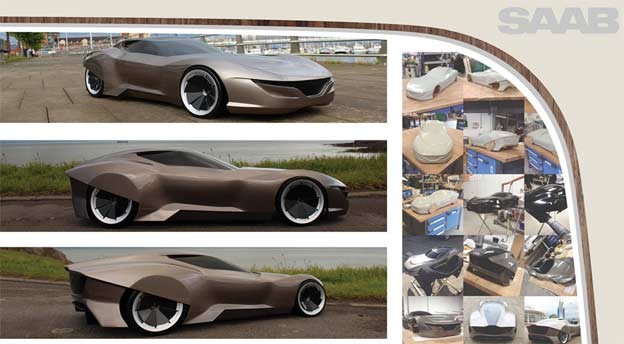 A clay model of a SAAB Eco-X Concept
Drew not just stop at the drawings, for his project he created scaled clay model of SAAB Eco-X Concept.
Saab Eco-x Interior
Final interior concept optimising the use of lugagge space for the ultimate Grand Tourer expirience. Dashboard design resembles the Wings of an Aircraft combined with the Conceptual wheel gives aeronautical feel.
A mixture of wood veneer, subtle leather and contrasting aluminium provider a luxury scandinavian feel. Head-up display brings new technologies to the interior. Decluttering the deshboard and allowing a minimalistic design.