This beautiful Saab 9-3 V6 Sportcombi appeared on Craglist this week.
Saab's love of turbocharging has meant the company's car have always benefited from excellent performance, especially in the overtaking department. The 2.8-litre V6 takes that to another level with its tremendous pulling power from very low down.
The fact that Saab has managed to keep the power in check through the front wheels is commendable, as is the tractable nature of the car under more sedate use.The powerful engine comes with a liking for petrol, and the harder you push it the worse it becomes. Go easy and you can still expect to fall well short of 30mpg.
Insurance premiums are liable to be higher than the less powerful variants too, although long service intervals will help ease the burden on the wallet. A roomy wagon , the 9-3's roofline is higher than much of the opposition's and pays dividends in terms of headroom. There's also a healthy amount of legroom for rear passengers.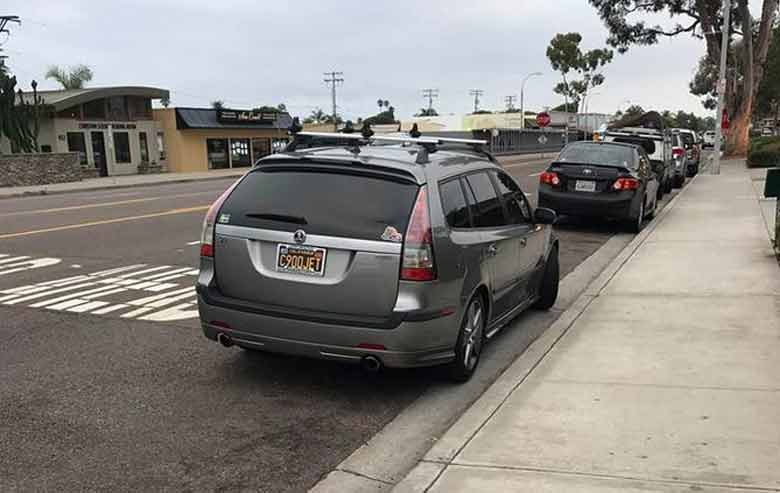 The rear bench of the 9-3 folds flat in a 60/40 configuration which offers some additional practicality in terms of load carrying although the rear parcel self stays in place. The boot is quite generous anyway, and will cope with day-to-day tasks with ease.
The power source is a turbocharged version of the all-new GM "global" V-6, a most modern all-aluminum, 24-valve engine with dual overhead cams that makes 255 horsepower and 258 pound-feet of torque-37 more than Saab's top-performing turbo-6. The 2.8-liter engine uses a twin-scroll, water-cooled Mitsubishi turbocharger that smoothes out the boost delivery.
This Saab 93SC is a very good car I am the 2nd owner of this car. This Aero 93 comes with a full roof rack system for surfboard and snowboard rack from Thule. Most current services I have all the paperwork on this 93. Willing to take reasonable offer within reason.
All new parts on this ride are as followed:
New tires
New shocks and structs
New control arms
New Motor mounts
New water pumps
New fuel pump
New radiator
New brakes and rotors
also pads
New GS Saab performance hardware
Seller
$3300
Zachary / ☎ (858) 999-4966 / San Diego, California, U.S.A.