We have already written here about A-Zperformance SAAB 9-3 II Tuning Bodykit.
Now, A-Zperformance design team has completed the work on design of Saab 9-3 II bodykit.
Main features of the bodykit:
Two types of front splitter will be available for the front bumper: "Street" and "Race". You can change it without any special tool on very easy way. The "Race" splitter is specifically designed for race tracks due to its very efficient aerodynamic down force!

There is a very small difference in the sizes between the stock (SAAB original) and our bodykit, except the "Race" splitter. That feature was one of the main point during designing to avoid a brutal, non professional look and problems with the authorities.

The air flow to the intercooler and the front brakes is perfect for the tuning cars.

Different exhaust pipe inserts will be available for the rear bumper: "Round", "Oval" or "Simple" (no cutting on it, eg. if you have only one pipe or a special one.

The design and the virtual testing was made by the most professional softwares used by the big car manufacturers.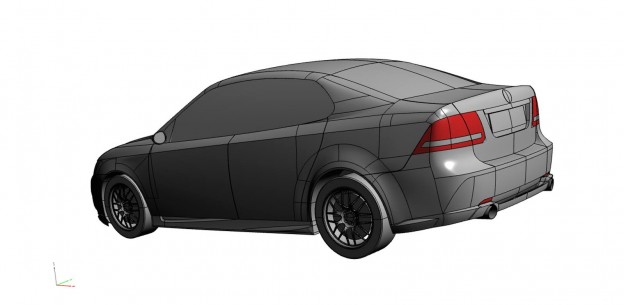 Design team Thanks to Richard RÉVÉSZ, who is the designer of the body kit and for Zsolt Tárnok (TMCARS) who is the chief designer for the italian car manufacturer Mazzanti automobili.
Next step
The next point in their to do list is to make agreement for the production! They have already started working on it, an If everything goes well will be done in couple of months.
If you are interested in to buy an A-Zperformance SAAB 9-3II bodykit, please drop an email [email protected]