A "Saabalicious" story from Oman, an Arab country on the southeastern coast of the Arabian Peninsula.
Here's another interesting story from Saab history that we believe will delight you. This story was shared on one of Saab forum by real Saab girl Kirsty Farnfield from UK.
Her father – Mr Ronald Farnfield, took these photos when they lived in the Sultunate of Omanin the 1980s. The Royal Oman Police took delivery of a fleet of Saab 900 Turbos for highway patrol and high speet pursuit. FYI, Saab cars are used by many police forces in the world.

The local Saab dealer was Shanfari Automotive (where they bought The Old Girl in 1984), they organised the shipment. Saab sent the legendary rally driver Erik Carlsson to Oman to give driving demonstrations to the Police force on the Saab's handling capabilities.
This included him driving over a tyre shredder with no hands on the wheel.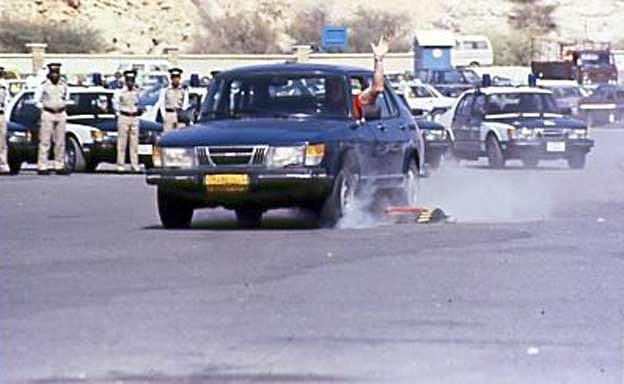 This is another incredible story of the rich Saab history. On behalf of all Saab fans worldwide, many thanks to Kirsty and her father Ron and her mum – she has been scanning old slides credit all photos to Ronald Farnfield, who has preserved this historically valuable Saab "pearl".