One of the Saab fans from Kentucky (U.S.A.) is Ben Choiniere, a really nice guy who is extremely passionate about Saab and is a big fan of the Saab 99 Turbo, the first family car with a turbocharger. Ben sniffed out one of these fine old cars, which had only 40 000 km on the clock, in the North Carolina forests.
For ten years the car had sat wedged between two trees. The original owner had sold it to a teammate in Carolina's SCCA club that wanted to renovate it and start racing with the car again. However, it wouldn't start. Without even having seen the car, Ben bought it and had it transported to Rhode Island.
"The car didn't have any rust on the undercarriage which is absolutely incredible," he explained. Otherwise there was a little rust here and there where moisture has lain for too long. The characteristic spoiler was cracked and the dashboard was gone. And there were ants everywhere! The exhaust pipe and all the head rests were also missing. However, the disco-inspired velour covering of the seats was still in place. I figured if I could get rid of those ants and fix new parts then I would have a really nice car – almost like the original. "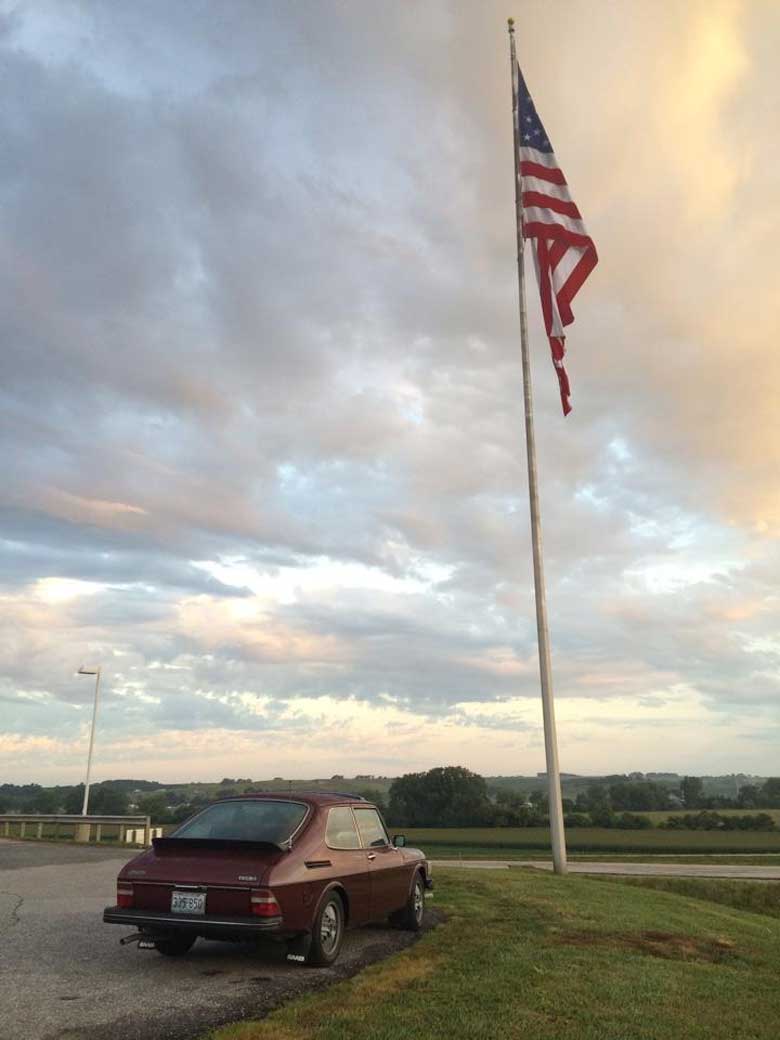 Ben, who worked in New York for years, had tired of life in the city and wanted to do something completely different. Saab became his salvation.
"Yes, that's how it was. I lost myself in the paint mist, brake fluids and brake work. I went around like a madman in the New England area, looking around in barns for spare parts. After a while I was able to drive the car. What a feeling!"
The first convention he drove the car to was the North American Saab Owners Convention in Oregon in 2014. Things didn't go quite as planned. It was 4 800 km from home in Providence, Rhode Island to Richmond, Oregon – a serious trip. After setting off, the charging light started flashing early and he had to return home.
The next day he took the generator to a workshop and a rectifier was burnt out. After a quick change, he was on the road again. When he finally got to Oregon, he won first prize in the 'People's Choice Award' and met 'Mr. Saab' Erik Carlsson, who liked the car a lot and signed the instrument panel, a wonderful recognition of a real legend. Source: United States of Saab