Looking to sell his first car, owner Peter Blazniak has owned this 2001 Saab 9-5 Aero since 2008 and to sum it up everything has been changed in the years of ownership, currently the car is down the exhaust valve in cylinder 2 has dropped so the stock b204/5 engine is toast.
He can either sell the car with the parts for the new engine that should be able to handle 900+ hp or he can sell it broken as is. All of the parts listed are 4 years old or newer ( k sport coil overs, hx40 turbo and the front end suspension has less then 500km on them in total ).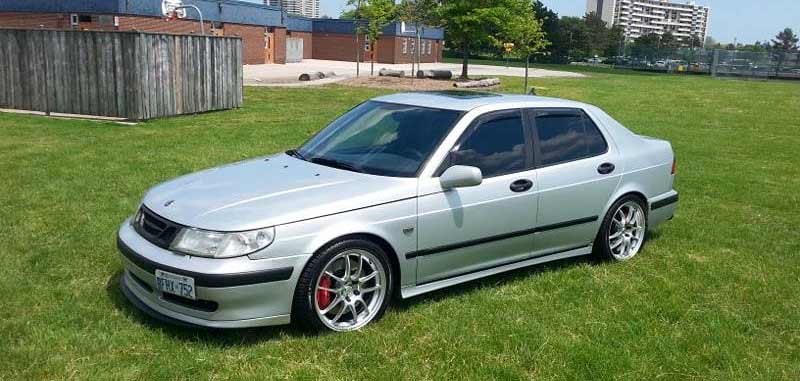 According to the owner and tuners, This car has the potential of being the fastest Saab in North America with this new engine some E85 and good tune. You can send a message to owner if you are seriously interested in the car you can work out a price, not in a rush to sell. Current owner probably missed even more modifications in the list. Car is in Toronto, Ontario, Canada. Below you can see the huge list of changes and adaptations that are arranged on this extra-ordinary Saab 9-5 car.
New parts for built engine
Wossner 90.5 forged pistons
Pec h beam forged rods
33mm t5 stainless intake valves
33mm t5 stainless exhaust valves
40kg valve springs
268/9.6mm big cams
Adjustable cam shaft sprockets
ACL racing main bearings
ACL racing rod bearings
Copper head gasket
OEM valve guides
OEM valve keepers
OEM valve spring seats
OEM valve seals
Dummy balance shafts
ARP main bolts
ARP head bolts
ARP large washers
ARP fly wheel bolts
Billet steel flywheel
Custom oil pan with screen trap
All engine gaskets / seals
Twin pump fuel system
billet fuel tank cap twin feed
billet fuel rail
fittings needed to run twin 340lph pumps
Current engine / turbo
B204/5 hybrid motor
Holset hx40 turbo
BEP 10cm (.70a/r) exhaust housing
45mm turbo smart external wastegate
PTP turbo blanket ( have a new one in box )
Custom equal length tubular manifold sch 10 tube
3″ custom down pipe vband / full stainelss exhaust
27 row big oil cooler
custom welded aliuminum intercooler pipe
custom welded aluminum delivery pipe
custom air intake
Forge 007 bypass valve
3.5 bar fuel pressure regulator
Siemens deka 80lb injecors
Stainless braided oil lines
Stainless braided power steering line
external oil cooler
full aliminum radiator ( twin 10″ fans )
A/C delete / short belt
Custom polyurathne main engine mount
Custom polyurathne rear engine mount
Transmission
rebuilt gm f35
Sachs upgraded pressure plate
Sachs 4 puck solid clutch
Quaife lsd
Custom polyurathne transmission mount
Suspension
K sport coilovers
SAS over sized 25mm / 23mm sway bars
SAS polyurathne sway bar bushings
02+ 9-5 front control arms
Moog sway bar links
powerflex polyurathne rear trailing arm bushing
powerflex lower front control arm bushing
Powerflex polyurathne main control arm bushing
powerflex torque arm bushing
powerflex subframe bushings
Powerflex steering rack bushings
speedparts strut brace
custom rear strut braces
custom steering knuckle brace
spc rear camber arms
Rear shock braces
Wheels / Brakes
18×8 Enkei pf01 racing wheels
Iron man i Move street tires 235/40/18r
10mm front spacers
15mm rear spacers
porsche boxster s front brembo brakes 40mm / 37mm
porsche boxster s rear brembo brakes 27mm / 25mm
saab tuners front brembo bracket
custom made rear brembo bracket
saab turbo x 345mm x 30mm front rotors
saab 95 aero (02+) 300mm x 20mm rear vented rotors
earls stainless rear brake lines
earls stainless front brake lines
Interior
Black intrior / headliner
Autometer oil pressure guage
Autometer boost pressure guage
Aem wideband guage
t7 suite live data hard wire plug
LED interior lights
Boost custom steering wheel
Big bolsterd seats ( 06 )
100% working sid
Custom blue switching shift boot
Exterior
Matt D front spoiler
Hella horns
window tints
weather tech wind deflectors
The car can come with a lot of extra parts owner has saved over 10 years. Really exceptional car, and for proce car you need to contact the owner – this is a great project car.