We've already introduced this car here 2 years ago, the car was then owned by Matt, and then the car was sold to the new owner. This is incredable Saab 9-3 Viggen – a car whose power is raised to over 400 horsepower. Now this rare Viggen is on sale and is looking for a new owner.
According to the current owner this VIggen is ine of only 91 remaining in the US with gray exterior/black interior. Violent torque steer, lots of fun, great handling. 36psi boost 400+ wheel horse power on 93 octane!
You read correctly, 400+ wheel horse power on pump fuel thanks to Mike D Tuning! Current Owner will be switching coasts for work and decided that it is more economical to part ways with the Viggen now.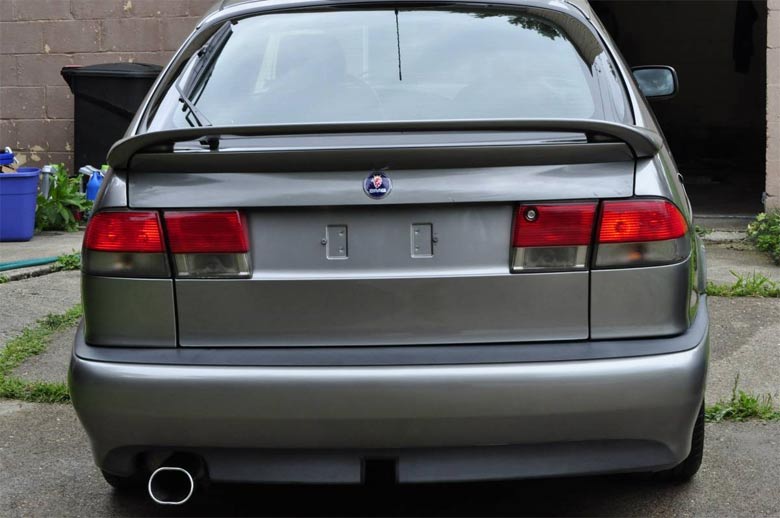 With attentive care she has many wheel spinning years left in her; 14,000 obo to good home with lots of extras (spare parts and an extra set of rims for snow tires). Car is Very well maintained. Oil changes done every 3000 miles with mobile 1 0w40. Heat and AC works great. Sunroof with no problems. This is a 5 Speed and Car has absolutely no rust anywhere on it. Has Rare carbon fiber dash and door handles. Has brand new battery. Title is clean with no leans or accidents.
Also features an open SID reading over 30 different engine metrics. Pioneer touchscreen head unit with upgraded audio system with 10inch sub flush mounted sub in trunk with 1000watt amp with Bose rear deck speekers &
Kicker door speakers.
The list of build-ups and upgrades on the car is big, so here's just a small overview of the most important changes:
T7 3.5 Bar fuel pressure regulator
3inch downpipe
Race catalytic converter
FORGE piston diverter valve
Magnaflow performance muffler + Viggen matched exhaust tip (straight pipe from the race cat till the muffler)
Spec open air intake
Spec aluminum flywheel (less than one year old)
Viggen clutch (less than one year old) + Slave cylinder
6 point subframe brace
Anti-sway bar (rear)
Upgraded evap system
17 x 7.5 inch spoked rims
Koni dampers rear (lifetime warranty)
Koni dampers front (Autocross/road race version lifetime warranty)
Race/Sport coilover kit (genuine saab)
Race strut mounts
Genuine saab sway bar end links
Steering rack and brace clamp kit (genuine saab)
Slotted sport front rotors (308mm)
Slotted sport rear rotors (Brembo)
Crank vent hose kit #6
Upgrade silicon vacuum lines
Upgraded fog lights (yellow)
Genuine Saab urethane engine and trans mounts
The selling price of this automobile is $ 14,000, and if you are interested, you can contact the owner Michael Barron, via call or text: ☎ (717) 471-0085 or reply by email:
[email protected]craigslist.org