This weekend starts The 20th STCC season at a brand new airport circuit located at the Swedish city Skövde.
A total of 14 drivers are entered from Saab (4), BMW, Dacia, Kia and Volvo. While the field might seem small, the fight for the title is expected to be as tough as ever.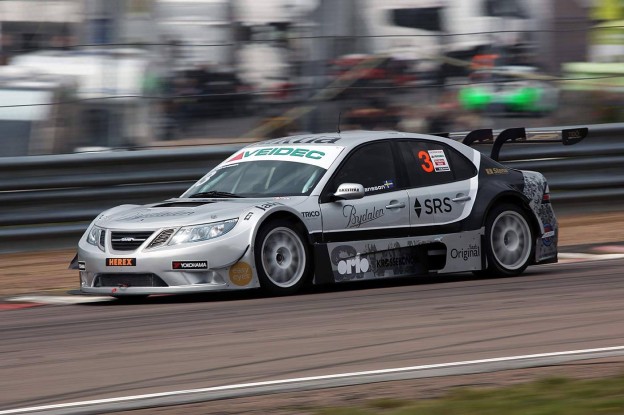 A lap around Skövde racetrack with Richard Göransson
Team Tidö driver Richard Göransson inSaab 9-3 STCC, the most successful STCC driver ever with 4 titles and 39 victories, has also set his sights on stealing the title from Björk this year.
"We have everything in place for us to come a long way this season. I know how hard the team has worked with the small details during the winter and that is just what is needed to win at this level. This is our second season together and the tests have confirmed that the speed is good. I have also chosen to step down my racing outside of STCC this season in order to really focus fully on this. How far that will take us is of course impossible to say, but I am going for the title," said Göransson.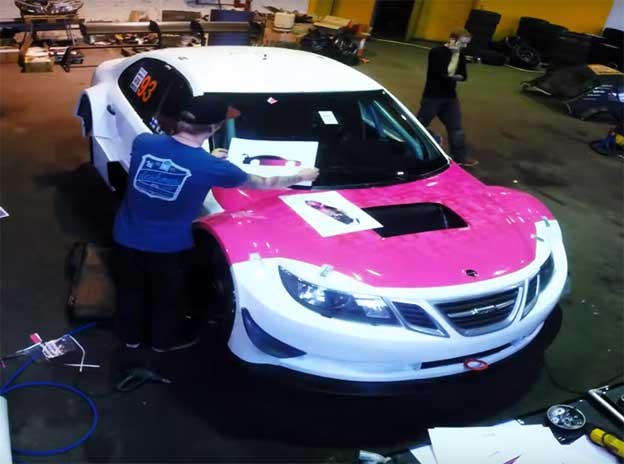 Another dark horse to look out for is PWR Racing's Emma Kimiläinen. The Finn starts her second season this year in Saab 9-3 and after a frustrating 2014 with glimpses of speed, 2015 could be the year for Kimiläinen to seriously challenge for consistent top five finishes.
"I am aiming for a top five finish overall. Last year was to learn, I hadn't raced a car for four years ahead of that. But things are different this year and I hope to take my first victory," said Kimiläinen.
The final details of the circuit are yet to be released other than the map as can be seen below. The characteristics are similar to the airport circuit in Östersund, raced from 2012 to 2013, and is likely to be fast but with varying degrees of grip with the type of surface changing at many places.
This will no doubt provide an uncertainty for all drivers, especially as the championship has changed tyres from Yokohama to Michelin and we might not see the drivers on top that we expect. The race weekend starts on Friday with testing and qualifying, this time with the reversed grid being moved to the grid of race two. Saturday features two races of 20 minutes each, just as last year.
2015 SCANDINAVIAN TOURING CAR CHAMPIONSHIP ENTRY LIST
No – Driver – Team Name – Car
#1 – Thed Björk – Volvo Polestar Racing – Volvo S60
#3 – Richard Göransson – Team Tidö – Saab 9-3
#4 – Fredrik Larsson – WestCoast Racing – BMW SR
#6 – Erik Jonsson – Sportpromotion – BMW SR
#8 – Roger Samuelsson – Team Tidö – Saab 9-3
#9 – Kevin Aabol – Team Kia – Kia Optima
#10 – Erik Johansson – Team Kia – Kia Optima
#11 – Fredrik Ekblom – Volvo Polestar Racing – Volvo S60
#13 – Carl Philip Bernadotte – Volvo Polestar Racing – Volvo S60
#20 – Mattias Andersson – Dacia Dealer Team – Dacia SE
#37 – Daniel Haglöf – PWR Racing – Saab 9-3
#93 – Emma Kimiläinen – PWR Racing – Saab 9-3
#95 – Emelie Liljeström – Team Kia – Kia Optima*
# – Rasmus Mårthen – Team Kia – Kia Optima*
* = Not entered for full season
STCC VOLVO RACE SKÖVDE TIMETABLE
Friday 8th May
10:20–10:50 Test 1
13:10–13:40 Test 2
16:00–16:15 Qualifying 1
16:20–16:40 Qualifying 2
Saturday 9th May
12:20–12:45 Race 1 (25 min)
15:05–15:30 Race 2 (25 min)

All times are in CET.
Source: touringcartimes.com