Saab cars are recognizable by their Cup holders. There are several types and several different design solutions, but all solutions have in common that they are excellently designed, simple, usable, and serve a purpose. Most automotive journalists always notice this detail when reviewing. Simply, it is part of the legacy of Scandinavian design followed by interior designers in Saab cars.
Some of the Saab owners have dared to go a step further, and devise their own new solutions for additional Cup holders. So we can remember the cup holder for Saab 900 3D Printed Cup Holder or A Cup Holder Adapter for Saab 9-3 that is 3D printed.
Now, Brothers Jakob and Mattis have designed a brand new Cup holder for the Saab 9-5 as an upgrade that replaces the coinholder in central console. We can freely say that their solution is completely in the spirit of Saab's design philosophy, brilliantly designed and of course usable.
Below, read the background story of how this designer interior upgrade was created, which many Saab car owners will surely like. And that's not all, if you like you can order this upgrade directly from the authors of the solution.
Video on the Cupholder in action:
3D Printed Saab 9-5 Cup holder (Backstory)
I've always been frustrated that the car only had one good cupholder for the driver and no easy available one for the front passenger.
I never liked the aftermarket options and then I spotted an unsual original SAAB center cupholder that replaces the coinholder, after long time trying to find and buy one i turned to my brother Jakob who have expirence in 3D CAD and 3D printing and asked if we could develope one instead.
We started with taking the measurements under the coinholder and worked based on does restrictions. Then there was around 6 months of idea changing about how it would work, finding components and printing prototypes.
When we were satisfied with the design and function a test ready prototyp was produced, and then the stresstest started in my daily driven SAAB 9-5og Aero.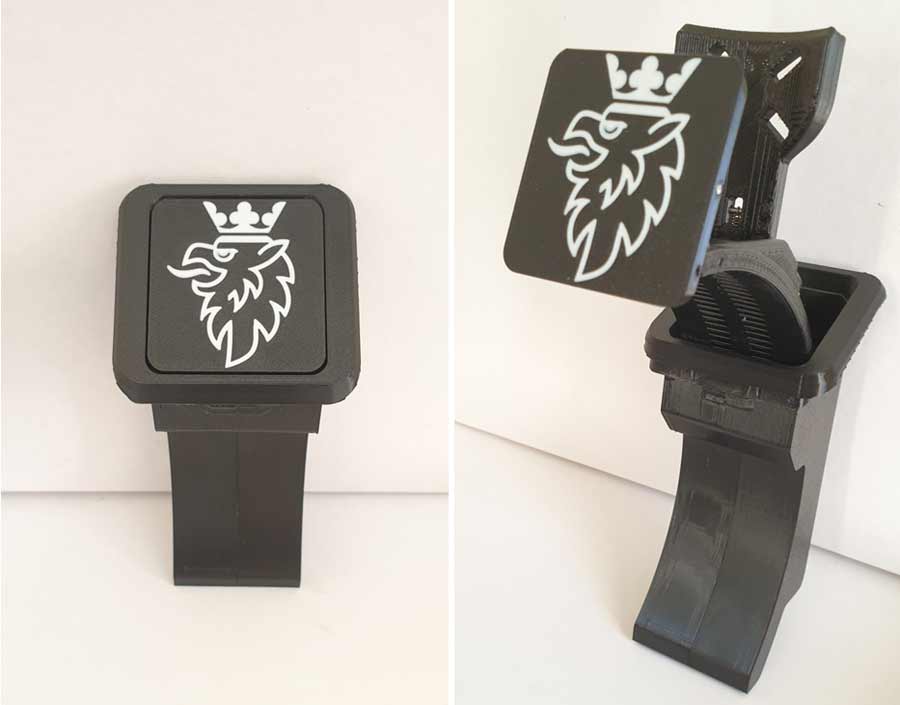 Install, uninstall, open-close-open-close, placing different cans size and weights, brake test, curve test, misshandling etc, and after many hours and some tweeks the presented Cupholder have emerged.
It's primarily made for a 33cl can, both old and the new slim size, even takes to-go coffee cups.
You can fit bigger cans and heavier fast food papper cups, up to 0.7L tested, but then it won't keep the beverage safe at harder brakes and turns.
We are now in the stage were we have started to produce Cupholders for sale at our spare time, the printer is running almost 24/7, but some parts take time to get due to Covid.
We take orders on demand so don't hesitate to send an E-mail and we will respond with price and a time estimate as soon as we can.