This Saab 9-3 Aero is very interesting, and according to the words of the owner – first one in North America that he know of with a large frame turbo – 24PSI on a Holset HY35 made 488WHP and 467WTQ with STD factoring on the factory engine. And better yet, the car can be yours because it is for sale – 2008 Saab 9-3 aero 2.8T (59,500 Original miles) 6-Speed 488WHP 30PSI sells for $13900.
It has the 2.8T v6 engine with a F40 6 speed transmission. the present owner bought this car from a good friend almost a year ago. Purchased it as a non-running car with most of the performance parts already installed and operational.
The previous owner dynoed the car at 488WHP. It was missfiring even at idle. New owner has gone through the whole wiring system and the harness has a short where the LS2 ignition coils were wired in along with a faulty ECU. He has replaced the ECU with a brand new one and wired in OEM connectors to the engine harness and replaced the LS2 ignition coils with better, updated, LF4 ignition coils and adapters.
While installing those, the owner also installed new LFR 7AIX NGK plugs. The car since was reduned by Skeyyy Tuning (Andrew Wolniak). The dual disk clutch was pulled and he had the flywheel resurfaced and balanced to reduce gear chatter that a dual disk, single mass flywheel will create. While in there, new plates, pressure plate, and TOB were installed less than 700 miles ago.
The coilovers have been gone through and re-adjusted less than 300 miles ago along with a fresh wheel alignment. The brakes have been gone through (cleaned and re-greased). The car was cleaned inside and out. The goal was to keep the car but he has working on another project and he need the space. Overall the car has been garage kept by him and he has put less than 2,000 miles on it since he've owned it. The car came with one key, he've added a spare OEM key. Car runs strong at 30 PSI. If you're interested in reading through the built here's the link.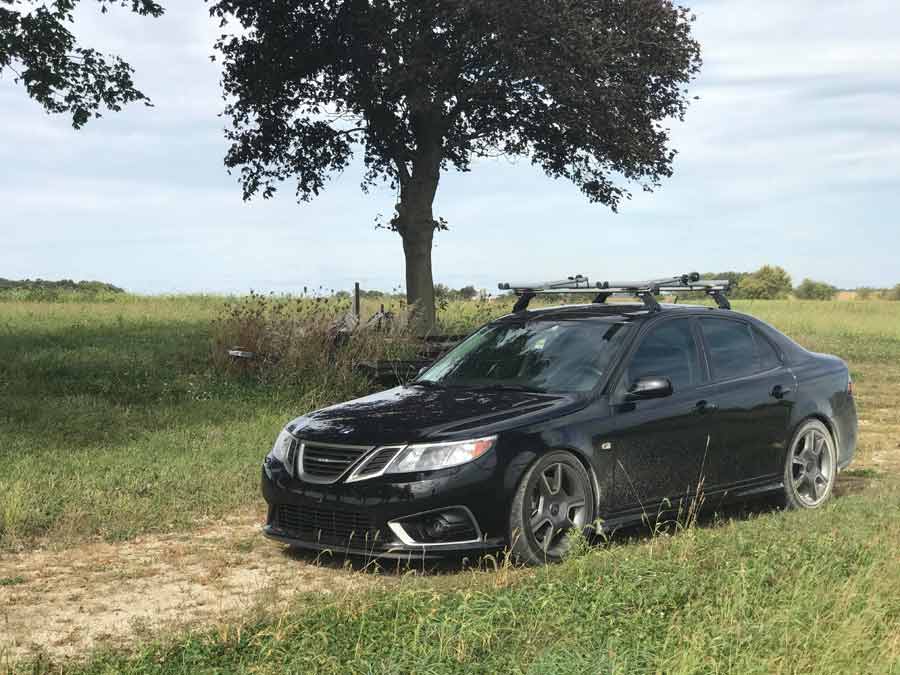 Kamil Polniak (Chicago, Illinois) is the owner and customizer, and Andrew Wolniak also helped him in Tuning stuff. He sent us some new informations about the car:
"Andrew Wolniak is the tuner. It has a custom 20g turbo, 1000cc injectors, all custom piping done by me, ls2 coil kit, mostly everything is made by me. Has a spec twin disk clutch with a single mass flywheel. I did all the work on the car. Also motor mounts made by me. I'm an engineer who likes to make everything himself instead of paying companies for their parts.
I forgot the little thing. It has the 2012 griffin front bumper, custom downpipe, custom intake, custom short shifter. I owned two tutboXs but just recently sold one of them and I daily drive this one.
Also the video I sent is my YouTube channel and most of my videos are on there. My old aero is on there. That's the saab I started with in 2008. This year it marks 10 years of owning a 2.8t saab

"
Tuned 2008 Saab 9-3 aero 2.8T Specs
Interior condition – 4.5/5
Exterior – 4/5
Engine
-Custom CBM SS log manifolds (heat wrapped)
-HY35 turbo
-DEI Turbo blanket
-4″ 90* intake with custom aluminum MAF housing (not plugged in, car is running speed density)
-dual Tial MV-S 38mm Wastegates
-Custom CBM SS downpipe and midpipe tied into stock exhaust (Heat wrapped)
-4AN turbo oil supply line
-10AN turbo oil drain
-2.5″ intercooler piping from turbo to throttle body
-24×11.5×3.5″ Bar & Plate Core intercooler
-LF4 ignition coils (less than 500 miles on them)
-NGK LFR 7AIX spark plugs (less than 500 miles since install)
-Custom made Ignition Coil adapters (less than 500 miles since install)
-Custom HOWE Aluminum radiator
-DERALE Performance radiator shroud with custom integrated into the car
-3 Bar MAP sensor
-10AN bungs welded to valve covers
-Custom Baffled Oil Catch can connected with Summit Racing 10AN fittings and braided SS lines
-Walbro 450 LPH fuel pump
-CBM oil cooler plate
-Mishimoto External thermostat with external oil cooler
Transmission
-Dual disk clutch with new plates, pressure plate, and TOB (less than 700 miles ago)
-GenuineSaab.com custom clutch line
Suspension
-New Moog outer tie rods (less than 1000 miles since install)
-New Saab Oem inner tie rods (less than 1000 miles since install)
-Fortune Auto 501 Adjustable coilovers.
-Custom subframe bushing reinforcement inserts
-New OEM lower control arms(less than 500 miles since install)
-CTS-V 6 piston front calipers
-SS braided caliper lines
-CTS-V 2-piece floating rotors re-drilled to 5X110
-10mm rear spacers
-25mm front spacers
-18″ Enkei m52 wheels
-Continental extreme contact 235/40 ZR 18
-Stud conversion on all wheels
Interior
-AEM Boost gauge
-AEM AFR gauge
-Gauge pod with Boost gauge and AFR gauge mounted by shifter
-Battery relocated from engine bay to trunk with in series fuse on positive side
CONS
-Traction control/Stability control fault is on because the car is not running torque structure anymore. It is running speed density.
-A few dents on roof and hood from previous owner.