Robert L. from East Central Florida contacted us with a desire to share information with Saab enthusiasts around the world, and in connection with his interesting Saab 900 model who wanted to sell to one of the enthusiasts who will continue to take care of this great car.
A long journey to the United States
You will be surprised that the car had an interesting "journey" through the world during its existence. According to Robert, the car was ordered through International Diplomatic Sales. This Saab 900 is produced in Late Feb. '89 in Arlov, Sweden – Then, in mid-December 1988, the car was delivered to Naples, Italy. However, it was not originally delivered to Italy but was loaded on the Vessel "Madam Butterfly" to arrive in the USA after a few months – delivery in Mid April '89 in North Florida.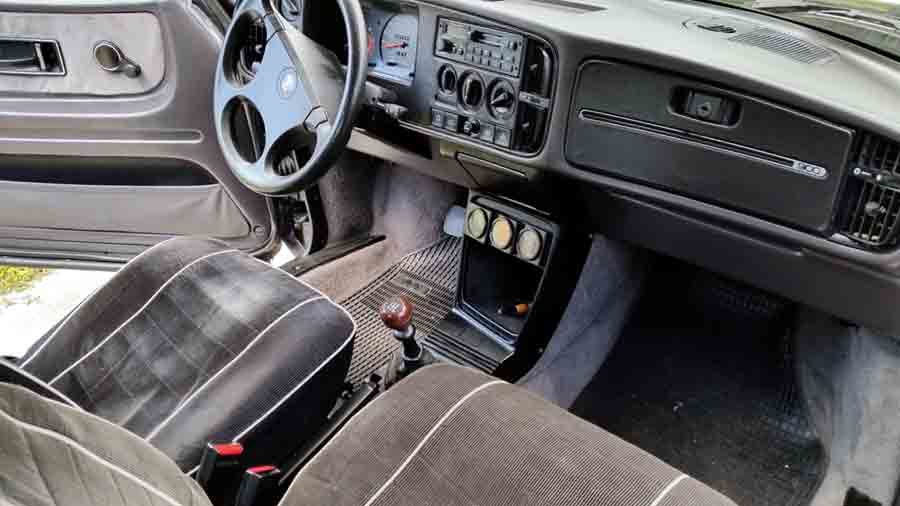 Details about Saab 900
The First year the base model had the 16V engine, sway bars, gas shocks and the Saab 9000 brakes for the US market. Center console, gauge kit, rear spoiler and metallic paint were options ordered from the factory. The BBS 15×7 Cross Spoke wheels (new), and Sport & Rally seat covers (used) were purchased from contacts at SOC 2016.
Covercraft WeatherShield HP custom car covers since new. DOS program called Wheelbase (advertised in "Nines" magazine in the early 1990s) for vehicle maintenance. Options added: Rain/Wind Defectors, Air Outlet Covers, Cargo Mat, Storage Bin, Spare Bulb Kit, Leather Gaiter Shift Boot, Wooden Shift knob, Waste Basket (under the passenger seat) all Genuine Saab Accessories. Original Whip Antenna and factory Saab/Clarion Radio with 40 watt front speakers OEM.
Driving impressions
Performance: Curb weight is 2708 lbs. The mid-range torque 3K rpms – 4K RPMs in 5th gear 70 mph – 90 mph acts like a light pressure turbo (LPT). With traffic permitting, depress the accelerator pedal at 3000 RPM (max torque point) the front end lifts up and the pull is urgent to 4k RPM. I use Tier 1 Fuel (Shell/Chevron). A Preferred customer account with Amsoil. 10w/30 Amsoil SS (Signature Series) oil for engine and manual transmission. K&N air filter and have a cleaning kit for swap and refurbish. Factory spec NGK BCP5ES with Jetronic LH 2.4 fuel injection.
1989 SAAB 900 (183,700 miles) 2.0 Liter 5-speed 3-door hatch
Engine: B202i engine (2.0L) 16v
VIN: YS3AR35DXK3014943
Cost of Ownership is current to April 2021
Operating Cost: (WheelBase data) 4/19/2021 by Robert:
Parts: $28,780
Labor: $11,205
Fuel: $14,440
Total Costs: $54,425
Cost-per-mile: 0.297
Average MPG: 27.55
As you can see, Robert provided a lot of details and information, so if you are interested in this car, contact him via this email [email protected].