This interesting 1978 "evergreen" Saab 99 GLE, which can be a great base for a project car, is located right in the Evergreen suburbs of Denver.Let us tell you right away, he is not in driving condition, but he needs very little care and attention to get started. And then, it will take a lot of effort and work, and of course investment, for this Saab 99 to shine in full splendor, as it once was in the late seventies of the last century.
According to the seller himself, he has invested almost 10 thousand dollars in the car in the last 20 years, and now he is trying to at least make up for some of it.
Briefly about the car
This Saab 99, runs, drives, and stops, but should be towed as it is not registered. NOT RUSTY! FIRES RIGHT UP! on the 2nd or 3rd try. It has been sitting (garaged or covered) for years, but had the gas tank and coolant flushed last year. Body in great shape with no dents. Interior in great shape other than front seats being worn and rear head rests being ripped.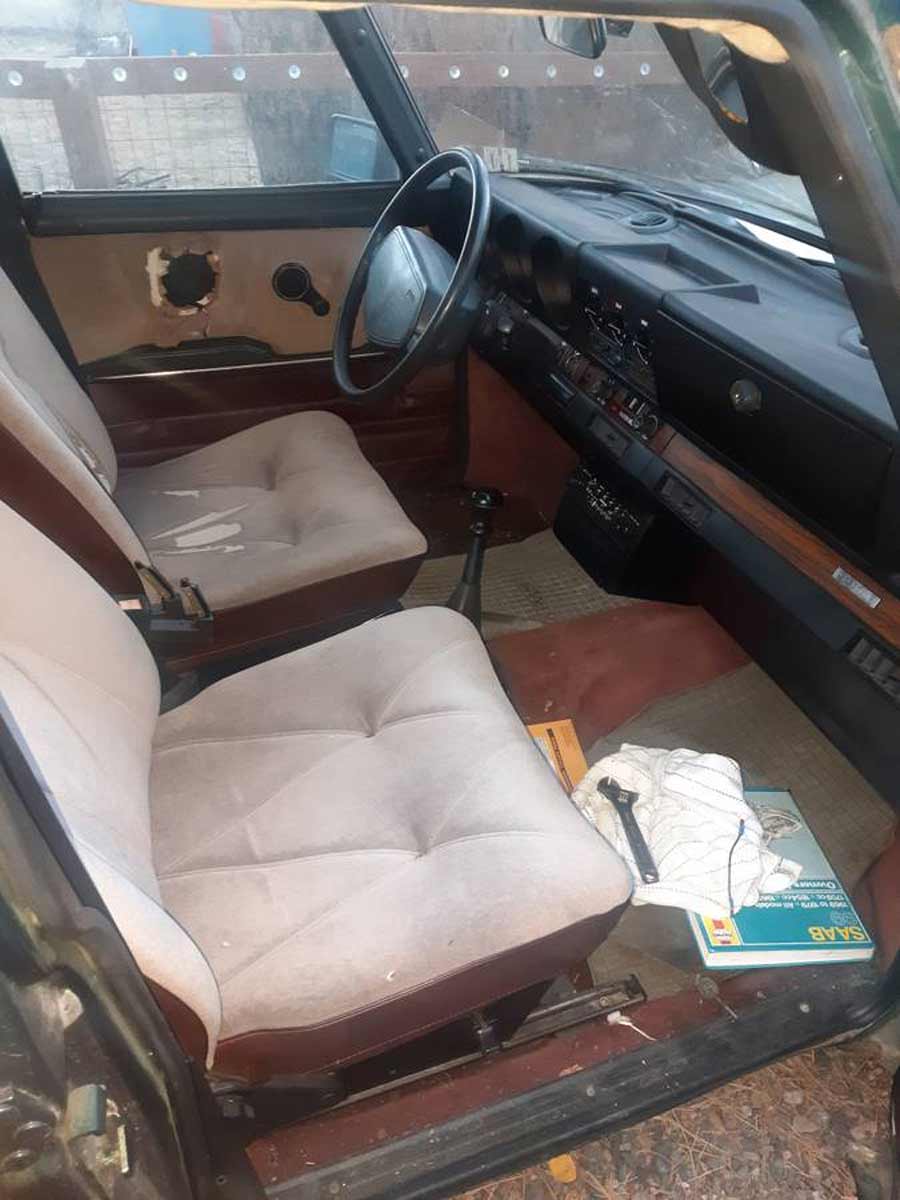 Some paint chipping around sun roof and mirrors. All trim intact other than silver strip on rear bumper. The only mechanical problem which the owner knows is that the radiator fan is not working. He tried to pinpoint the problem in the electrical circuit but have been unsuccessful. If air is moving through the radiator it is fine, but if it sits still idling, it gets hot.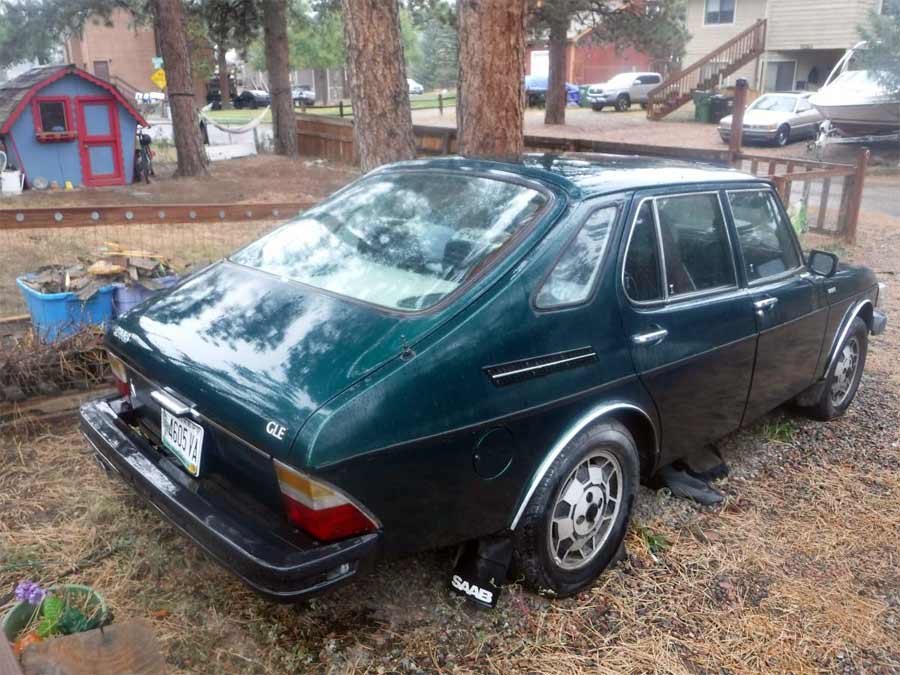 Car's History
Originally imported and owned in Pennsylvania. Originally painted grey. Bought by owners uncle in Maine in 2010. When he passed away in 2013, his wife started fixing it up. It got painted green with a black stripe on the hood, a manual transmission swap, an exhaust system, and a lot of work done. The seller currently has it since 2016. In that time it's mostly just sat in place. He never registered it, lost the combination title/registration from Maine, and he is finally just going to sell it with no title.
Title Status
There are no leins on the title. The Maine Rural District from which the current owner got the car has cleared all their records and therefore cannot get a duplicate title from them.  He would get the title but the car did not pass the Certified VIN inspection because just one of the turn signals and the horn are not working at this time. If they had been working when He towed car to get the inspection done, he would the title. So in order to get the title, it is necessary for the future buyer to fix all the light signals and horn, then go do a Certified VIN inspection and have a bill of sale in hand. Then with that, you do a Colorado Title Records Search.
1978 Saab 99 GLE – Specs and options
2.0L 4Cyl SOHC non-turbo engine.
Fuel Injected
4 wheel disc brakes
Aluminum "soccerball" rims
Factory undercoating and anticorrosion treatment
Power steering
Electric Mirrors
Sliding Sunroof (manually operated, no leaks, wonderful feature)
Car Maintenance History
2010
The first account the owner has is from 2010, right after his uncle bought it. The things done at that time were:
– Thermostat
– O2 sensor
– Spark Plugs
– Front brake pads and rotors
– Total cost of $1150
2012
The next receipt is from 2012. It is hard to read, but what He can tell was done is:
– Clutch Slave Cylinder
– Rear shocks
– 5spd transmission swap
– Total cost of $1200
2016
The next receipt is from 2016, right before He got it. Things done at that time were:
– New fuel tank
– New water pump
– Oil change
2020
Finally, the last maintenance done was by a semi-retired independent SAAB mechanic in Colorado who is a wizard, has a warehouse full of 99 parts, and would definitely be someone He could put you into contact with. This was in June of 2020:
– Fuel pump rubber boot replaced
– New radiator fan relay
– New battery
– Transmission Shift Lever lubed and re-attached
– Fixed fuel leak
– Radiator cleaned, new thermostat, new coolant
– New clutch slave cylinder hose, new seals on clutch master cylinder
– Total cost $1200
His notes on further work needed:
– Shock absorbers worn out
– Charcoal can fouled
Miscellaneous
– Speakers mostly disconnected except for one.
– Original Concord radio works flawlessly.
– Tires have great tread but are 11 years old.
– Headliner falling down
– Passenger front window falls down off of mount when you move it.
– These have a slant-4 motor. The valve cover gasket seeps onto the exhaust headers and causes smoke. Quite alarming to see smoke coming from under the hood but it's just exterior oil burning.
– Nicknamed "Goodbjorn" after his uncle. Mention this when you contact him.
To see car, just send Email, call (720) 979-7374 or send him a text message, and you will agree schedule a time.