Swedish car fans are anticipating two big events that are unfolding an ocean apart.
The first is today's (Augist 24th 2014) 15th Swedish Car Dayat Larz Anderson Auto Museum in Brookline, Ma (near Boston – 10 a.m.-2 p.m.).
The second is Wednesday's 27th introduction of the new Volvo XC90 SUV in Stockholm. It will go on sale in the United States early in 2015.
Today's event at Larz Anderson was the brainstorm of Village Auto Group CEO Ray Ciccolo. Pierre Belperron, formerly of Charles River Saab and now of Volvo Village in Danvers, has handled the logistics and served as emcee.
"We typically get about 200 cars," says Belperron, "but because we don't pre-register, it's hard to know just which owners and cars will be showing up."
Expect a wide array of historic and unusual cars that will satisfy both the cognoscenti and casual viewers.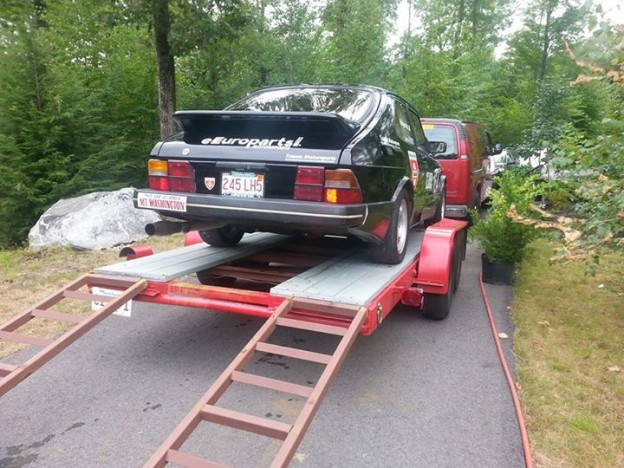 One Saab Belperron knows will be on display is his son Pascal's 1985 Saab SPG (Special Performance Group) that was fourth in its class at this year's Mt. Washington "Climb to the Clouds."
"It represents three decades of Saab technology," says dad. "The car is a 900 turbo from the '80s, it has an engine management system out of a '90s 9000 Aero model, and, new for him this year, a reproduction 70's Saab Sport and Rally non-synchro four speed gearbox with parts sourced from Sweden."
"NBC covered the event, and it should air in September," says Belperron, "but as a dad all I cared was that he didn't fall off the hill."
Attendance at Swedish Car Day should get a boost this year because the Saab owners national convention is on the West Coast. "That means we'll get a good local turnout, and we also have heard from owners in New York and Pennsylvania who plan to drive up," says Belperron.
"Our awards are all done by people's choice," says Belperron, who prefers that system to official judging. "Everyone who comes to the show gets a ballot. It makes it more about the spectators than the owners."
The day's featured speakers are Volvo's Joe Haslem and Saab parts guru John Christensen. Haslem is US brand manager for the S60, V60, and XC60. He'll be speaking about Volvo's S60 and V60 Polestar (performance) models.
Christensen is Saab Parts Helpline manager at the Allentown, PA, facility that has been the North American parts center for Saab.
"He's an important person for Saab owners, especially since they're just a parts company now," says Belperron. "He'll talk about the state of things with parts availability and future plans."
The Saab owners group always has been uniquely loyal to the brand, even after production basically stopped in January, 2010.
"There's a remarkable level of passion and enthusiasm still there," says Belperron. "I'm curious to see where these folks are going as they have to replace their daily drivers. Will it be to Mini or Volkswagen or Volvo? We'll all be doing our market research. There doesn't seem to be any uniformity."
One thing most attendees will want is the commemorative T-shirt.
"They've become something of a collector's item over the years," says Ciccolo. "I knew this year's was going to be a big hit when I showed them to my grandchildren and they all wanted one."
Youngsters (and their parents and grandparents) also will like the full-sized Volvo XC90 created out of Legos that will be on hand.
It's only one part of the drumbeat leading up to the introduction of the second-generation XC90.
"I've never seen an introduction as elaborate as this is," says Ciccolo, one of the country's many loyal Volvo dealers, a group that's been in dire need of fresh product since the company was bought by Chinese automotive holding company Geely in 2010. Ciccolo has three Volvo franchises—Boston Volvo, Volvo Village of Norwell, and Volvo Village of Danvers.
"It's the first all-new Volvo developed entirely by Swedes since Ford bought Volvo in 1999," says Ciccolo.
The XC90 will be the first vehicle built on Volvo's Scalable Product Architecture (SPA), designed to be used across the company's coming new portfolio of vehicles.
"It's the most anticipated Volvo ever," says Ciccolo. "It should be a game-changer for us with mind-blowing technology and design plus a price that I'm guessing will be $15,000 less than our major luxury competitors."
The new XC90 will have a distinguishing feature—"Thor's Hammer"—T-shaped running lights in the shape of the hammer used by the Norse god of thunder.
Frustrating to Ciccolo is that Volvo won't announce exact pricing until late September or early October.
"There's a lot of interest out there," he says, "but it's hard to write orders without a price structure. The only Volvo I remember that was generating so many advance orders was when the company introduced the first front-wheel-drive car, the 850, in 1991."
The XC90 will have a 2.0-liter four-cylinder engine that is both supercharged and turbocharged and will produce 316 horsepower.
"I've driven a current S60 Volvo with that engine, and I know it's going to be impressive," says Belperron. "With the eight-speed automatic transmission, I was averaging 40.5 mpg and that's in a sturdy 3,600-pound mid-sized car. I don't know what they're projecting for the SC90 but it should be good."
Meanwhile, Swedish car fans will be celebrating the past today.
"Everyone knows that Saab owners in New England are loyal," says Ciccolo. "But so are Volvo owners. I think this might be the largest turnout anywhere in the country. I read that other areas are thrilled to get 50 cars. We'll get closer to 100."
How long will this "day" continue?
"The year people stop coming is the year I'll stop doing it," says Belperron, "and there's no sign of that happening."
Source: Boston.com